Elementor360 Newsletter Issue 23: Elementor the Big Picture
Along with the regular Elementor news, this issue also contains insights from my analysis of Elementor over the last 12 months.
From Elementor360
Elementor: The Challenge to Become More Performant
I spent a week reviewing what's been happening with Elementor over the last 12 months. My main take-away focused on the challenges in making Elementor more performant. Kudos to the Elementor team for tackling this, but there are a lot of things to note both about Elementor and about addon vendors. There is good information here for users to help navigate these changes.
Elementor Cloud and Elementor Pricing Changes
There were some insights that didn't make it into the retrospective article, including a discussion of Elementor Cloud and the pricing changes.
Cloud
In early December, Elementor announced "Elementor Cloud" beta. This is managed hosting that includes a copy of Elementor Pro, automatic daily backups, and generous bandwidth and diskspace allocations. I don't expect this to be low-end hosting. There are a lot of Elementor users who would pay a bit more to have an all-in-one solution with everything taken care of for them.
Some people worry that cloud hosting will take attention away from the core product. If Elementor Cloud was a stand-alone builder, like Brizy Cloud, then perhaps that might be the case, however, my conclusion is that the cloud hosting is based on WordPress and Elementor, so there is nothing to worry about.
Pricing
In early February 2021 Elementor announced new pricing and plans for Elementor Pro. Previously the pricing for new plans was:
This changed to:
In terms of the Elementor pricing change, there are two things that jump out at me:
The first is that customers used to get 1,000 sites for $199 and now new customers will get 25 sites for that amount.
The second thing is that 1,000 sites now costs $999.
So, here is the way I se it: the 1, 3, and 25 site packages are within the budget of a singe site owner or a solopreneur. On the other end, if you really are building 1,000 sites then you are likely working with a team and are an agency. The group that is feeling the squeeze the most, are the freelancers. Over the course of a couple of years they could easily make more than 25 sites, but the annual renewal could be painful. What do you think, does Elementor pricing still work for freelancers?
No More Monthly Template Kits?
Beginning in August 2019 Elementor started releasing monthly site template kits for the Elementor Pro design library. These were professionally designed site templates with several pages, each focused on a difference website niche. The last monthly template kit, number 17, was released in December 2020. It appears that these were quietly discontinued or placed on hold.
Elementor Install Rate Starts to Decline
The last observation from the retrospect that I wanted to share is that for the first time Elementor's rate of growth has started to decline. Here is the graph from WordPress org for October 2020 to now. This is about the span of time since the launch of Elementor 3.0.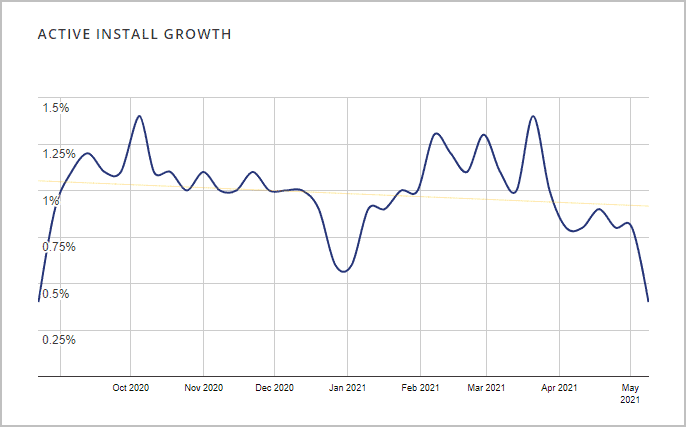 Theme News
Astra Version 3.3 Includes Speed Enhancements
Astra has its 3rd update in a row. This one has improved HTML and CSS output to reduce file size, changed out font icons for SVG icons, speed improvements for the Customizer, and a new Toggle Button that lets you display a hamburger menu in the header for desktop.
Blocksy Brings Customizer Colors to Elementor
The recent release of the Blocksy Theme has added support for Elementor colors. The colors chosen in the Customizer now show in Gutenberg and in Elementor.
Plugin News
A ton of Elementor addons had security updates. It is a good idea to make sure the ones you are using are up to date.
New Social Share Widget From Ultimate Addons
Ultimate Addons for Elementor has added a new social share widget. The widget comes with predesigned skins, support for 15 social networks, the ability to show share counts, and full button customizations.
HappyAddons Updates
HappyAddons has two new widgets. In the free version of the plugin they added an Animated Link widget that lets you add effects to your links. The pro version got a Single Image Scroll widget for long images, such as screenshots.
The HappyAddons team also added code to help avoid issues with the rapid updates in Elementor. They now require a minimum version and will not active the free version of HappyAddons if your version of Elementor is out of date. I'm glad to see the team being proactive and maintaining a leadership position.
Unlimited Addons Adds 20 Animated Backgrounds
Unlimited Elements has 20 animated Elementor backgrounds. These include effects such as stripes, lights, gradients, clouds, bubbles, stars, bokeh and more.
Elementor Pro 3.3 Beta with Two New Widgets
Elementor Pro beta version 3.3 is testing out two new widgets, a Video Playlist Widget and a Hotspot widget. The Video Playlist is an advanced widget that lets you add your own content such in tabs under the playlist, share direct links to videos in the playlist, auto-start videos, and indicate which ones have been viewed. This widget really shines when used with YouTube videos as it pulls in a lot of information about the videos automatically. The Hotspot Widget is similar to other hotspot offerings, though the Elementor version is very stylish.
Templates
Templately Team On a Roll
Templately adds an Auto Parts Service website template to their premium offering. They also added a premium template kit for Kindergartens and free kits for dance studios and portfolio sites.
Well, that's it for this issue. Happy Elementoring.