Crocoblock Suite Ultimate Toolkit for Elementor
With the Crocoblock Suite for Elementor you now have the tools for creating a wide range of attractive, engaging, and fully functional websites using Elementor. It brings a large number of features to the Elementor building experience. There isn't another Elementor addon package that is close to Crocoblock in functionality.
Have you been looking at Elementor addon packs and found yourself saying, "not another flip box!" Yes, every addon pack has some extra styling elements, some unique widgets, and some nice animation effects, but wouldn't it be nice to have the functionality you need for building advanced websites all in one addon purchase? With the Crocoblock Suite for Elementor you now have the tools for creating a wide range of attractive, engaging, and fully functional websites using Elementor.
Hold onto your hat, because the Crocoblock Suite is not just one plugin, there are 15. There are also a huge number of pre-designed pages, headers, footers, sections, single templates, and archive templates to get your designs started. The suite also includes the Kava theme.
Video Summary
Fifteen Plugins Included
Let's take a look at the plugins included. The functionality is separated out into different plugins so that you only need to install the ones you need for each project. They can be divided into a few groups.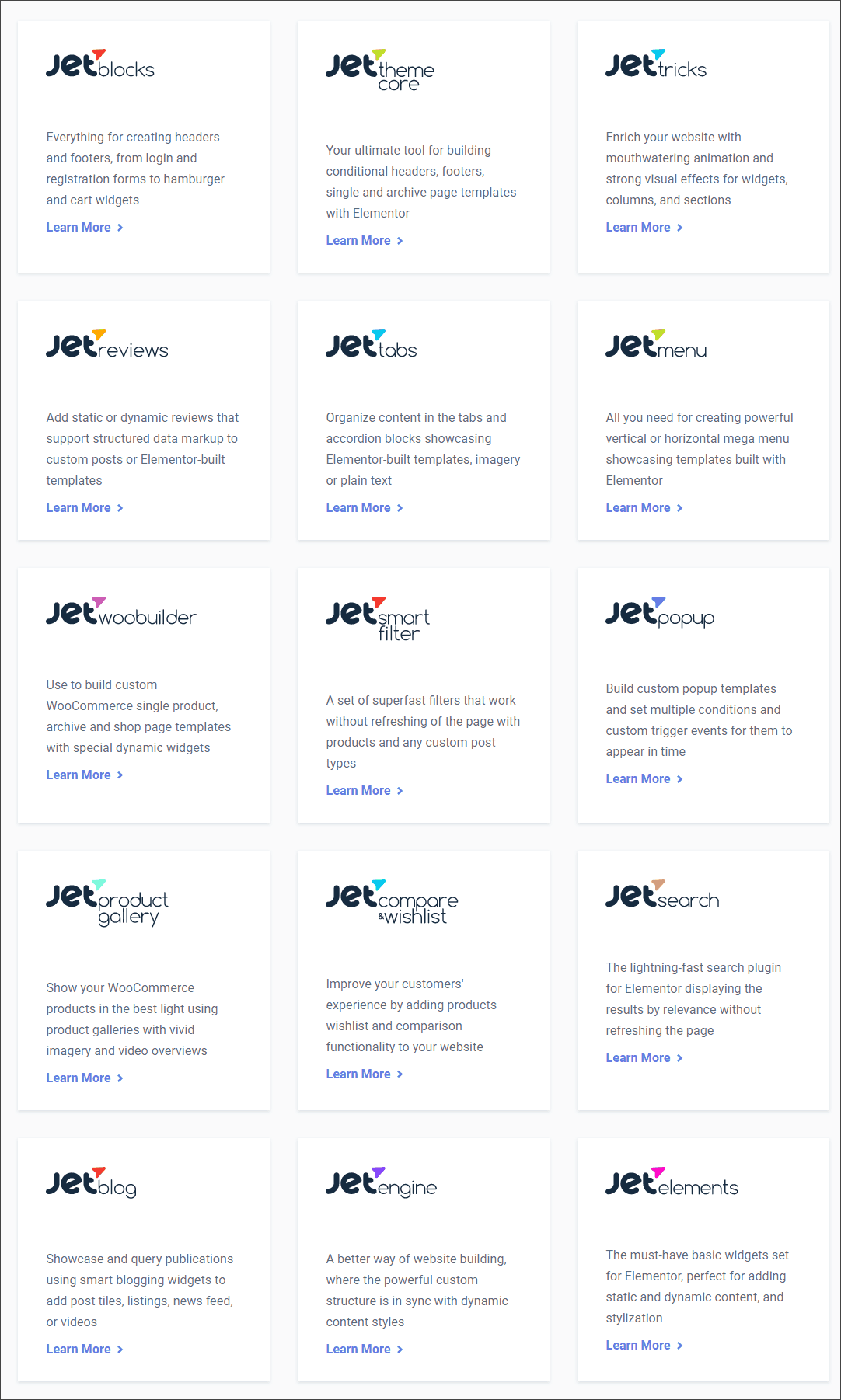 Theming
The JetThemeCore plugin gives you two things. First it adds the large Crocoblock library of pre-designed assets that you can import for use. The pre-designed pages, headers, footers, sections, single templates, and archive templates are all accessible by clicking on the "Magic Button" when you are adding a new row.

That opens up the Crocoblock library and you can select the elements that you would like to add to your site library.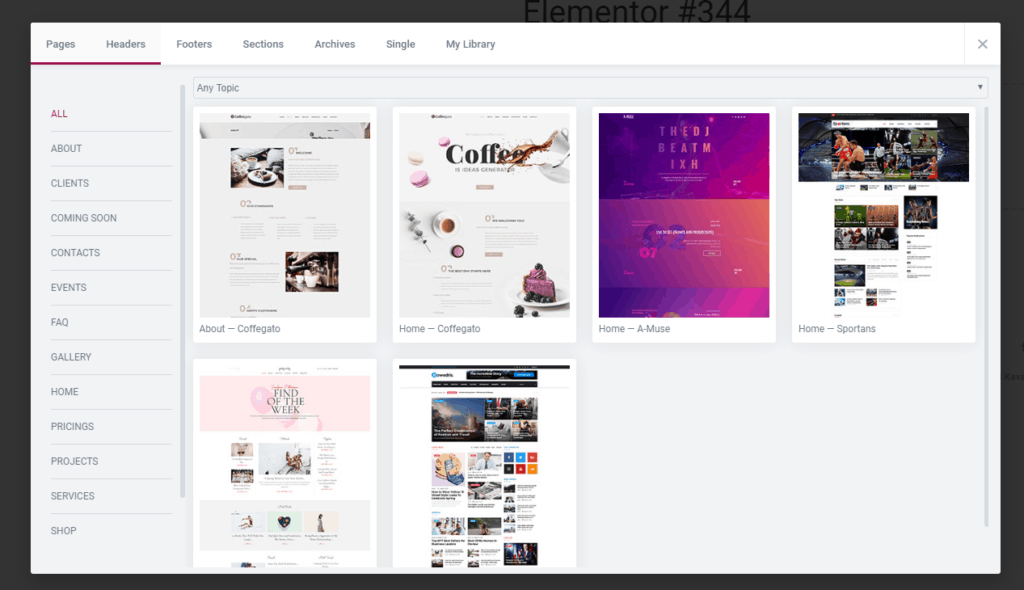 The second thing that the JetThemeCore plugin gives you is the ability to create theme templates, such as a site header and footer, as well as templates for single posts and archives. This is similar to the Theme Builder functionality provided by Elementor Pro.
A couple of other plugins that go along with theming are the JetBlocks and JetMenu plugins. JetBlocks provides widgets you would use for creating the site header, such as logo and menu. JetMenu is a mega menu plugin for Elementor.
Content Element Plugins
Crocoblock does have some plugins that are "more traditionally" geared towards enhancing content. The JetElements plugin is similar to what you might see in a general Elementor widget pack. It includes audio and video players, carousels, widgets for social media, posts, images and others.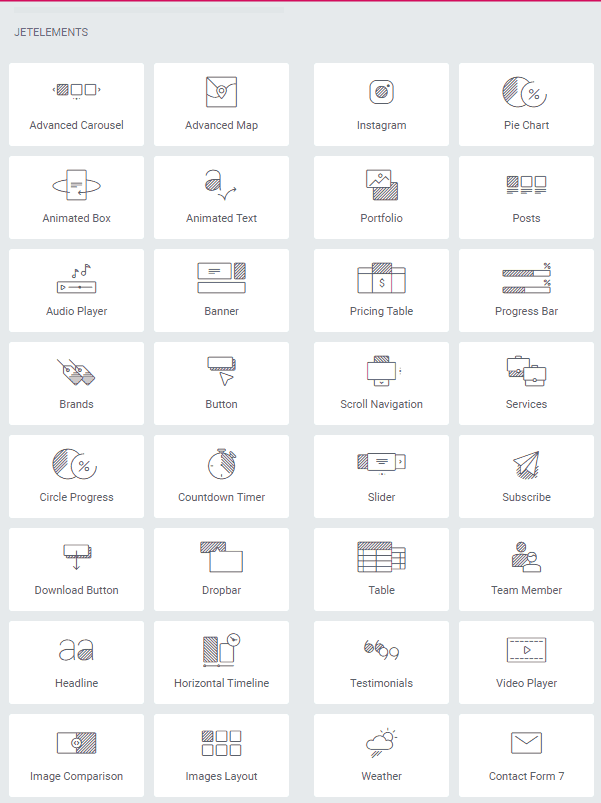 The JetPopup plugin provides the ability to create and trigger popups. This is a simpler popup solution than what comes with Elementor Pro, but it has integrations with MailChimp and JetWooBuilder.
JetReviews allows you to enable author and logged in visitor reviews. You select which Post Types you want to use it for and it shows a Reviews meta box on the edit screen. It also adds the schema to the output for search engines. You can enter the settings there to use in an Elementor template or you can manually set the options and values in individual Elementor pages. The plugin also adds a Star Rating widget and a Recent Product Reviews widget. JetReviews is not as flexible as it could be. For example since the values can be stored with the post, it could provide a shortcode for use outside of Elementor. Further, it did not look to me as if visitors could leave a "star rating."
JetBlog adds several widgets for displaying posts, Custom Post Types, and videos (shown below). The query settings are pretty flexible and if you need something very custom then on the Crocoblock website they have a free tool to help you generate a WP Query.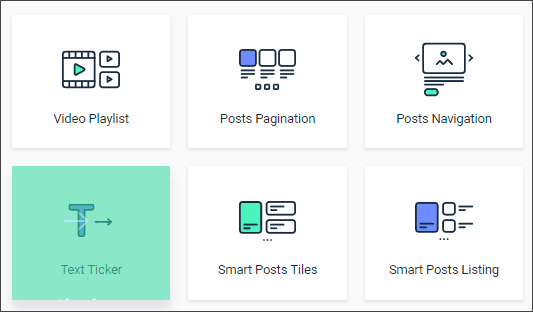 JetTricks is a plugin that offers several widgets and animation effects.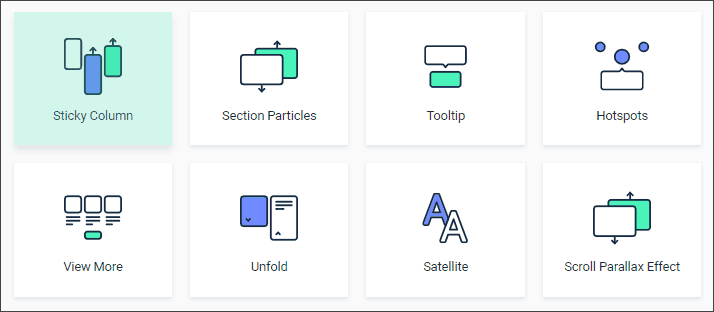 These are features that I would be used on most every site. There is a combination of display widgets, such as Hotspots, View More, Sticky Column, and Unfold along with effects such as particles, tool tips, and parallax.
JetTabs adds a display switcher, tabs and accordions which help to organize the content display and conserve screen real estate.
JetEngine – Dynamic Data & Creating Custom Post Types
JetEngine is one of the plugins that really makes the Crocoblock Suite special because it provides functionality that is not included in any other Elementor addon. It gives you the ability to create Custom Post Types and Custom Fields. This means that you don't have to resort to a third party solution like Advanced Custom Fields. JetEngine is a sophisticated option that includes advanced features like relationships between Post Types. In addition to these back-end features, you also get dynamic widgets for specifically targeting Custom Post Types and Custom fields.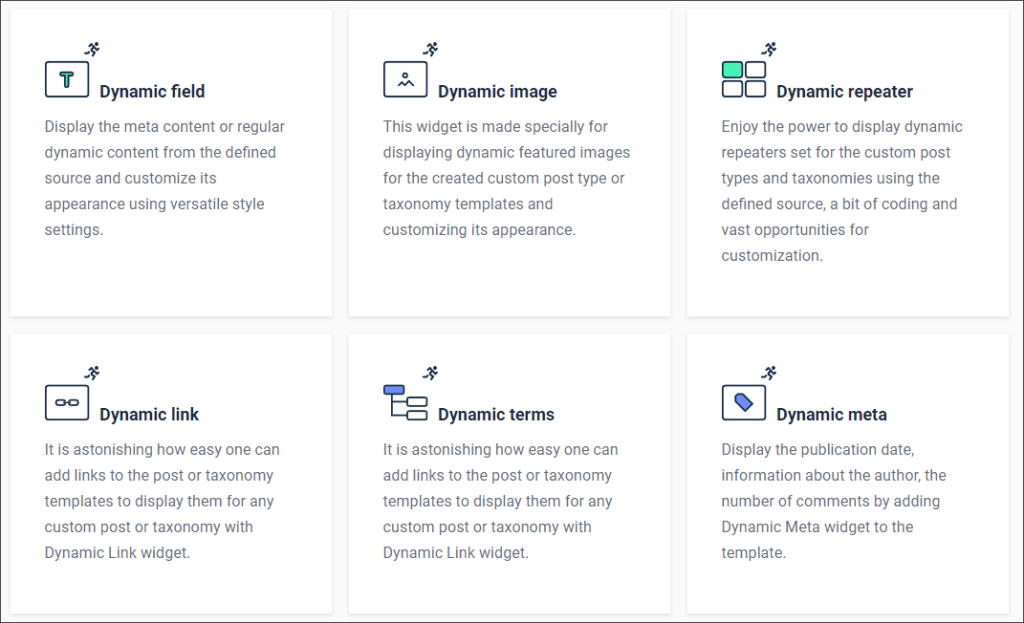 There is good documentation, but I think this is a tool for power users who need to go beyond the built-in types of content provided with WordPress core. Site builders using JetEngine should be prepared to dig into the documentation and watch how-to videos on YouTube.
It should be noted that most of the widgets in the JetElements plugin support dynamic data, which means they can be used for creating pages from Custom Post Type and Custom Fields values.
JetBlog, JetSearch, and JetSmartFilter all work with JetEngine's Custom Post Types. The JetBooking widget allows you to add some onsite reservation booking features. It is not a full booking solution, but focused for accommodation booking. There are some nice calendar displays included. When you match it with JetEngine for your "accommodations" post type, JetSmartFilter for category selection, and the Jet set of WooCommerce plugins, you begin to see how complete custom solutions can be built with Elementor and Crocoblock.
WooCommerce Plugins
JetWooBuilder is basically an entire Elementor addon pack just for WooCommerce. It includes a whopping 40 widgets for use to customize WooCommerce pages and build templates for a WooCommerce store. Many of these widgets can be used with JetThemeCore for creating WooCommerce store templates.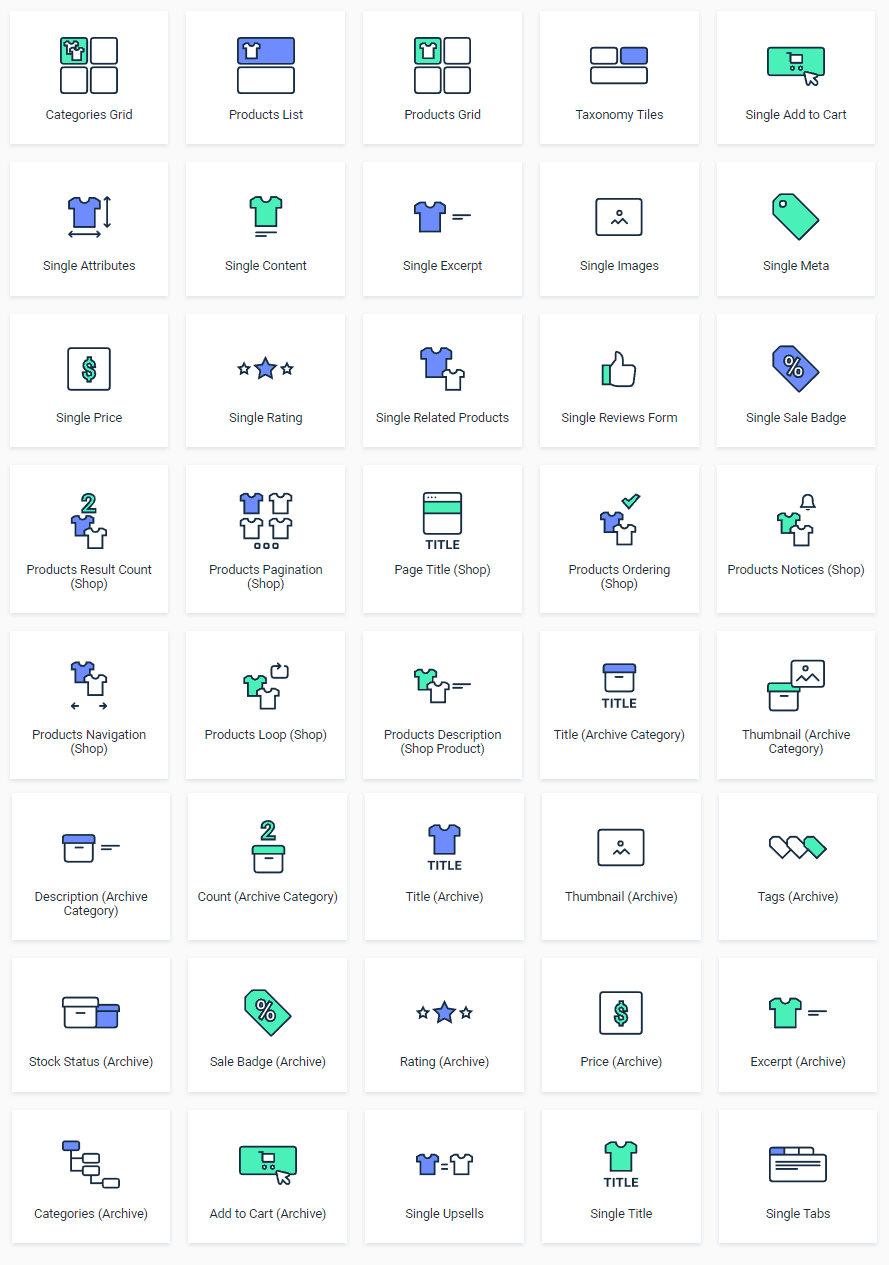 The Crocoblock Suite also include the JetProductGallery plugin for product displays and JetCompareWishlist for adding products to a wish list or enabling product comparisons. JetSmartFilters also works well with WooCommerce.
Kava Theme
Kava is a modern full-featured theme with a generous number of Customizer options. The companion Kava Extras plugin adds a meta box on the post edit screen for post formats support. It is not one of the better known page builder friendly themes, but it is very capable.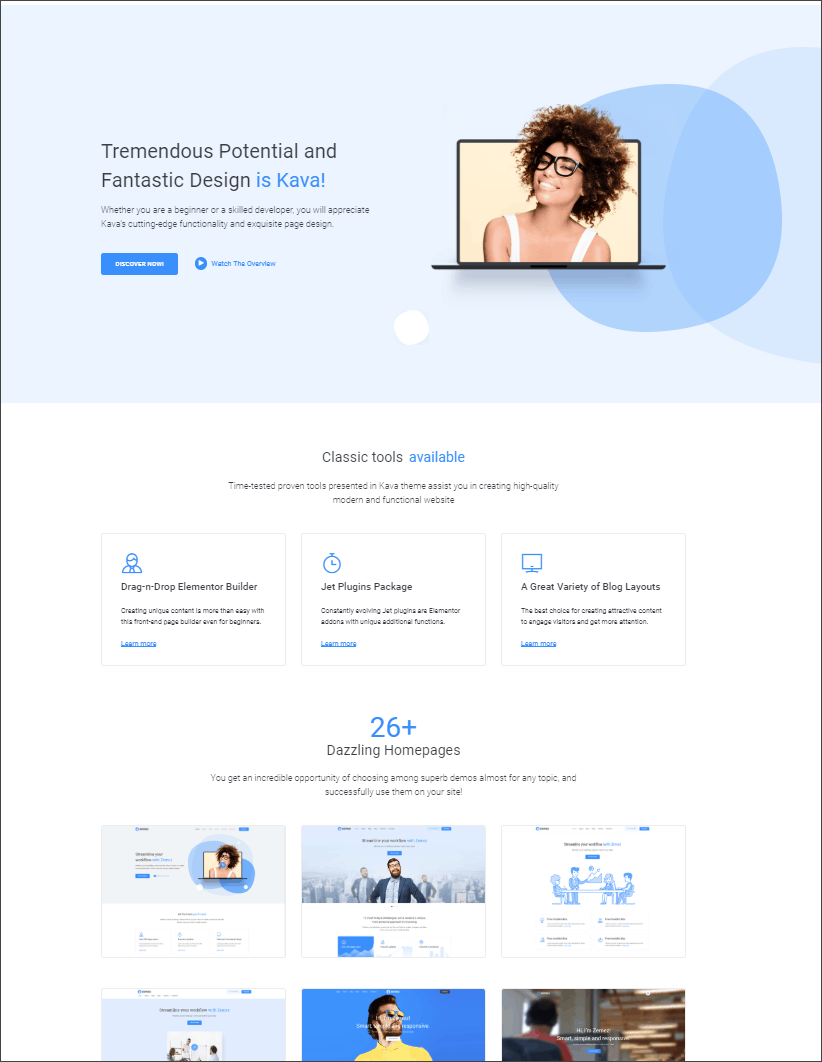 Pricing
You can purchase some of the Jet plugins separately, though that is not something I'd recommend. They also have the option to purchase bundles for 1 website or for unlimited websites in an annual subscription. If you have only one website then an annual subscription makes sense, but if you have more than one site or are building sites for others then the Unlimited websites, all-inclusive features, lifetime option looks to be the best value. The all-inclusive package is also the only way to get both the JetEngine and WooCommerce plugins together in one bundle.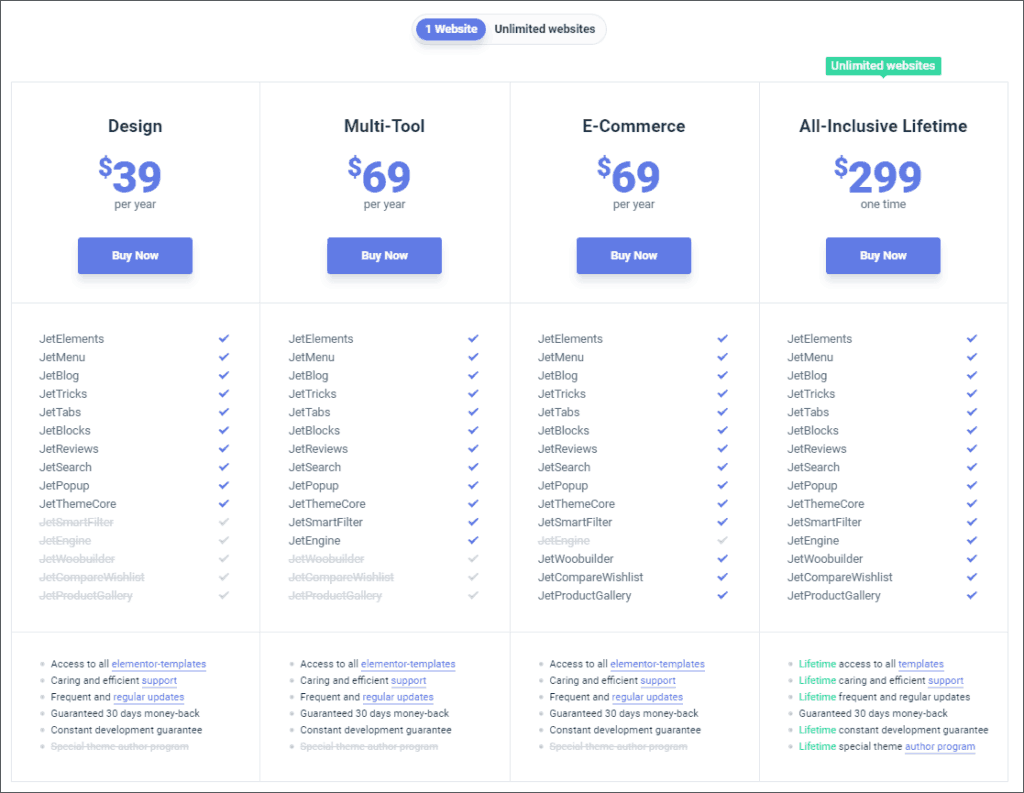 User Feedback
Crocoblock has a very active Facebook group with more than 3,400 members. Users can get help from other users as well as company representatives who participate and help out. This is very nice because you can often get an answer quicker that way than by submitting a ticket. Ticketed help is usually one business day.
I've noticed that there are a number of help requests because the Suite provides a lot of power-user functionality. This is not a Crocoblock failing but rather because a lot of users don't have experience with Custom Post Types or WooCommerce (for instance). The Suite tackles some of the more difficult and complex areas of WordPress and like other tools, it is difficult to implement, communicate, and demonstrate these concepts simply. There are help documents for all of the plugins and some of them have accompanying how-to videos.
Occasionally when there is a big Elementor or Crocoblock update there may be a short period when something is broken. This seems to be happening less often now than it did 9 month ago, which is good, but as with any addon pack, there is some wisdom in trying the changes on a testing site or checking the online forums for issues before upgrading.
Also, sometimes the Crocoblock team adds something like JetBookings, which seems very focused and not as feature rich as one would expect from a general purpose took kit. Sometimes these new additions continue to be expanded, but not not always.
Who is Crocoblock For?
The Crocoblock Suite is not for everyone. Some people have only simple sites or don't need Custom Post Types or WooCommerce. For these people Crocoblock may be more plugins and complexity than needed. Also, some people who need Custom Post Types or a WooCommerce store, already have favorite tools to handle those cases and prefer using tools that are dedicated to "just doing one thing." There is something to be said for dedicated tools: they handle more advanced cases, edge cases, and also work outside of Elementor. However, I continue to see power users, Elementor freelancers, and WordPress agencies using Crocoblock because they have projects with advanced features and it is easier and less expensive to get everything from one vendor.
Occasionally I'll see users who want to use Crocoblock's features because they overlap with Elementor Pro, thinking they will save by only purchasing one. While you can do that, especially for things like creating theme templates, Elementor Pro currently has features and continues to add new ones that Crocoblock does not replicate, such as the amazing breadth of features in the Elementor Pro popup builder. Most serious professionals have both Crocoblock and Elementor Pro, though I imagine some people starting out may begin with one and later add the other.
Conclusion
As you can see from this review, the Crocoblock Suite brings a large number of features to the Elementor building experience. Across all of the plugins, there are 150 widgets. The functionality includes content display, template theme building, creating and using Custom Post Types, searching, filtering, and WooCommerce customization. The team behind Crocoblocks continues to add new features and plugins. There isn't another Elementor addon package that is close to Crocoblock in functionality.