Piotnet Addons For Elementor – PAFE
Piotnet Addons For Elementor, or PAFE, is an addon pack for Elementor that includes 6 widgets, more than 45 extensions, and a robust form builder with conditional logic and calculated fields. Many of the features extend existing widgets to make them more flexible. Features include AJAX live search, cross-fade multiple background images, various light box options, conditional visibility, and parallax effects on every element.
Video Summary
Piotnet Addons Review Summary
What Is Included
The features can be grouped into four categories. Here is the feature list from the PAFE website. There are a number of features on the list that relate to creating forms. As you can see, the PAFE forms are the heart of the addon and bring a lot of functionality to Elementor pages. You can create forms for post type and Custom Post Type front-end submission, create multi-step forms, include conditional display logic, calculated fields, and Stripe payments.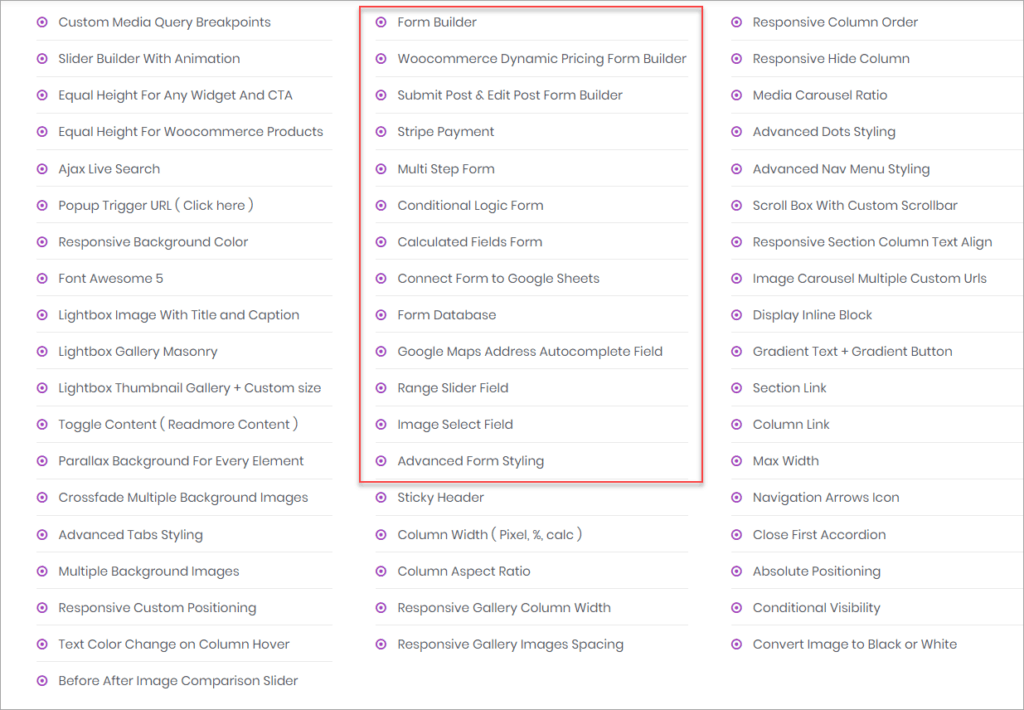 The second set of features add more control to existing element display. These include media breakpoints for individual elements, equal height adjustments, nested column settings, more fine-grained responsive display settings and additional styling for existing Elementor widgets.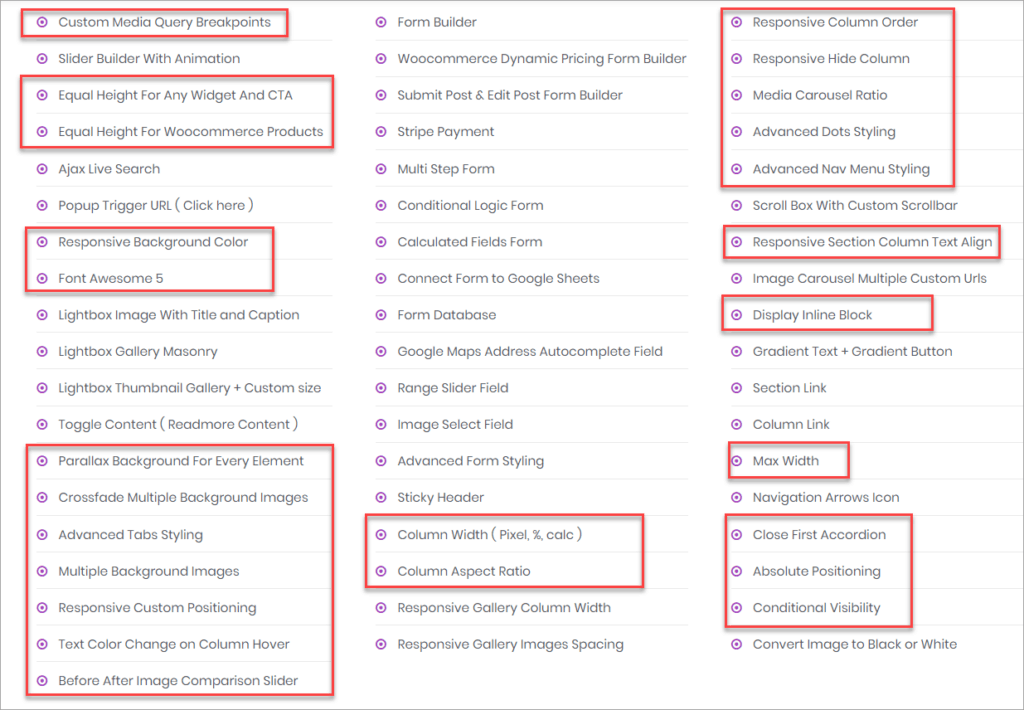 The third set of features relate to images. There are lightbox widgets, a before / after image comparison widget, and a feature to change images to black or white (most useful on images such as logos which have a transparent background).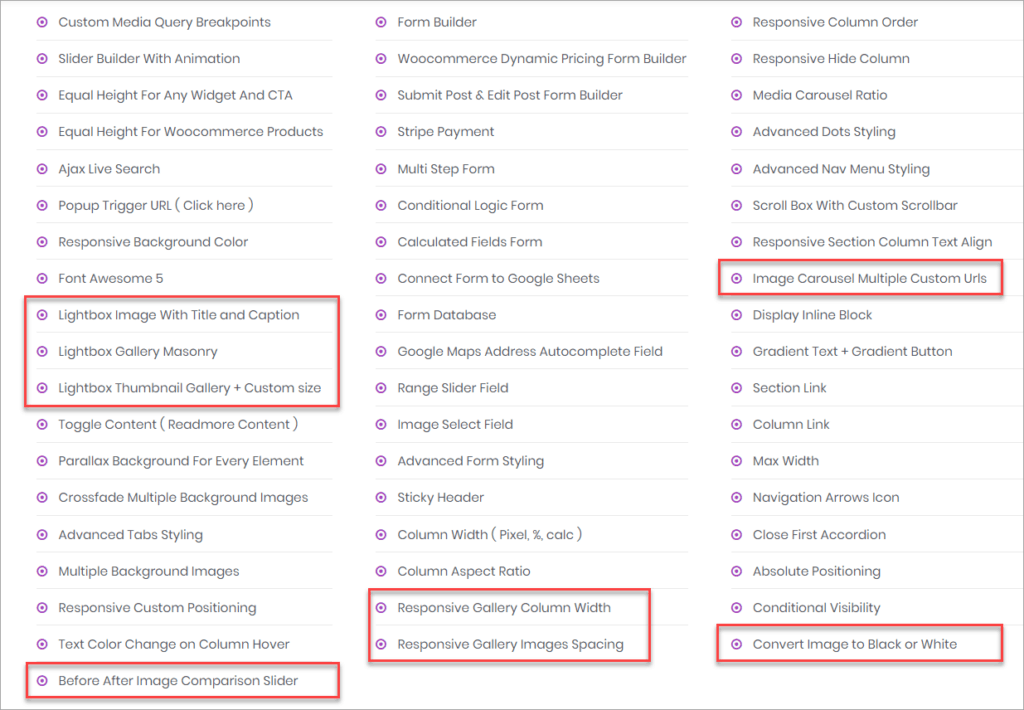 The fourth set of features are a collection of upgrades to Elementor widgets that are more than just a display enhancement. These include the AJAX live search, the popup trigger URL, a sticky header feature, and adding a scrollbar to an element on the page. The sticky header features require Elementor Pro, as would using some of the Popup features.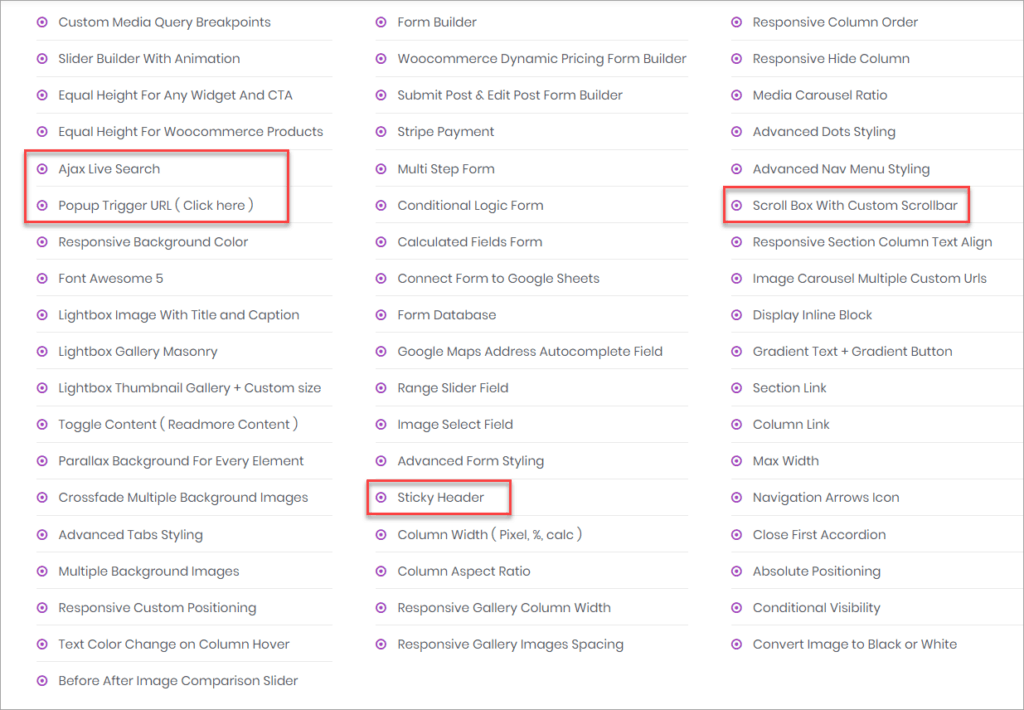 Fortunately, there is the option to enable only the features you need, so that the Elementor editor doesn't get to crowded: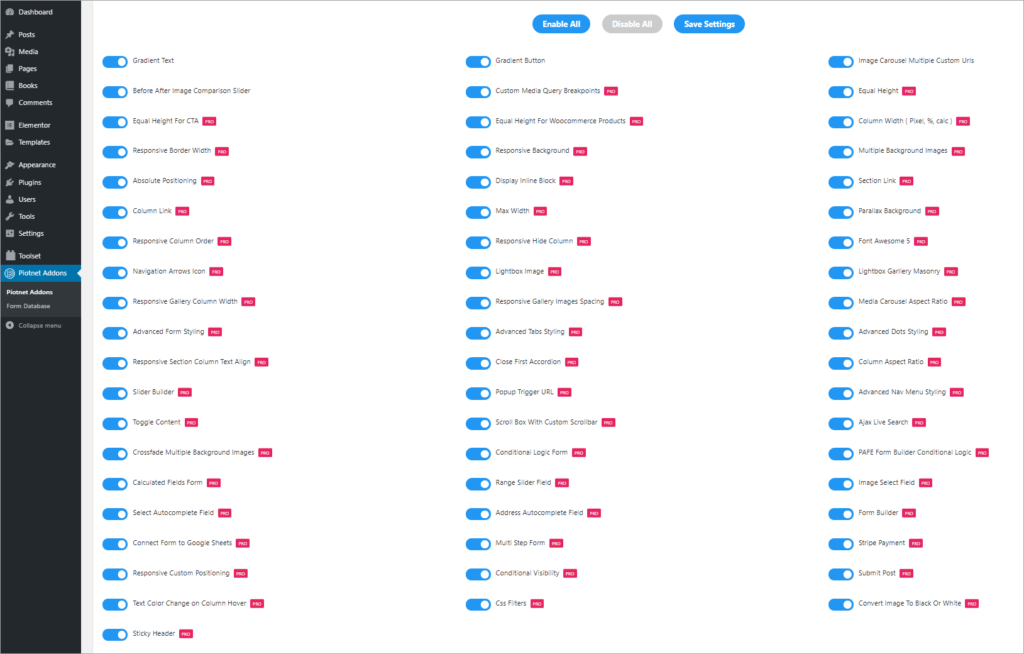 Surprisingly for all of those features, PAFE only adds 7 widgets. Four of the widgets relate to images and three to the form functionality.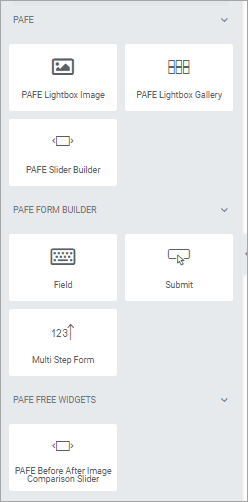 Most of the features are additions to the Style and Advanced widget tabs where they add positioning and styling options. Here are a couple of lists, for instance: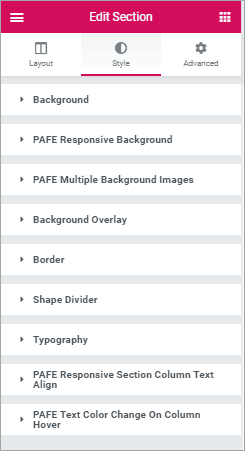 As far as I can tell, there is no organization and they are intermixed with regular Elementor settings. Their visibility is contextual and what shows changes depending on the element being edited. Also, there is no indication when a setting has been used, which can make it hard to tweak settings.
Many of the display related features do not provide a live preview in the editor. That lack, plus the fact that some of them don't have much documentation, means that using them involves a bit of trial and error.
Form Features
The PAFE form features are far and away the major strength of the addon. As I show in the video, I created a Custom Post Type using Toolset and then used PAFE to create a frontend form for submitting entries.
PAFE Forms – the Good
PAFE forms support the native WordPress custom fields. It also supports Custom Post Types and custom fields using Advanced Custom Fields, Crocoblock's JetEngine, and Toolset. An impressive number of field data types are supported, including:
Text
Text Area
Number
Email
URL
Password
Image
Gallery
Select
Radio
Checkbox
Date
Time
There is conditional display, calculated fields, multi-part forms, and a payment option. You can submit a form to save a post or Custom Post Type as well as to email, Webhook, remote request, or popup. In my testing everything I tried worked well.
PAFE Forms – the Ackward
When adding your fields you can supply any ID you want for the built in WordPress fields (title, content, featured image). For Toolset custom field you need to supply the slug defined in Toolset, so you must keep a list or have the field definitions open in another browser window. Whenever you give an ID to a field the widget automatically generates a shortcode for it.
The way you link the form fields to the submit button is a manual process that tends to be error prone. You have to manually supply the ID and shortcode for each field into the Submit button action settings. You also need to supply the field data type. This is a bit tedious. It would be nice if built in fields had a default ID and name and if there was a lookup for the custom fields like Elementor Pro offers for dynamic data.
Here is a screenshot of the completed form in the Elementor editor: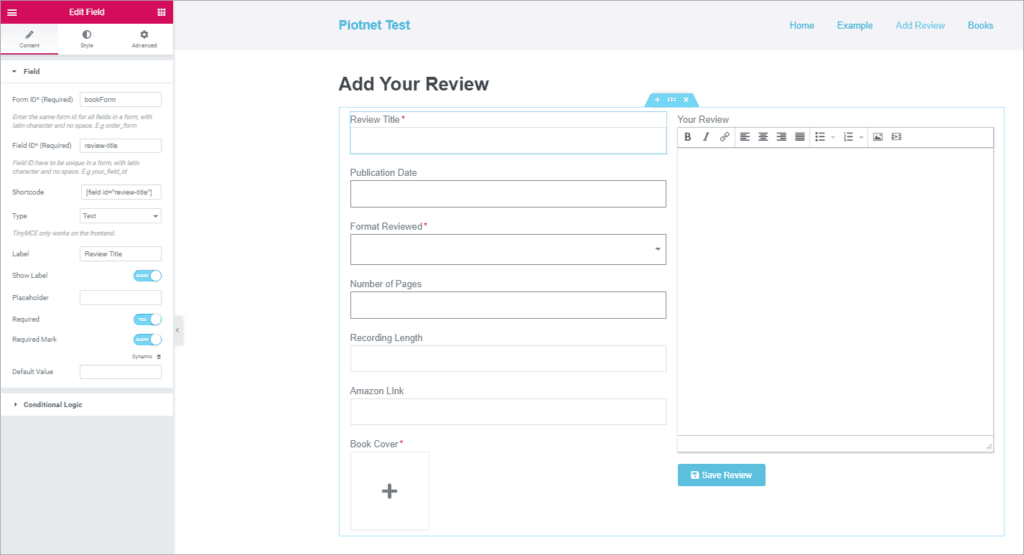 This screenshot of a form field's settings show the type of information needed when adding a field:

And here is a screenshot of the submit buttons settings. As you can see, you need to enter the shortcode for the built in fields. For custom fields you need to fill out a mini-form for each field with the slug, the shortcode, and the data type.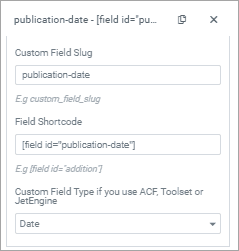 The conditional display worked well. Here are the conditional display settings for the Number of Pages field. In my form the "Format" field had two values, "Print" or "Audio". If the user selected Print then the "Number of Pages" input would show and if they selected Audio then the "Recording Length" would be visible.

Here is the view of the form on the front-end.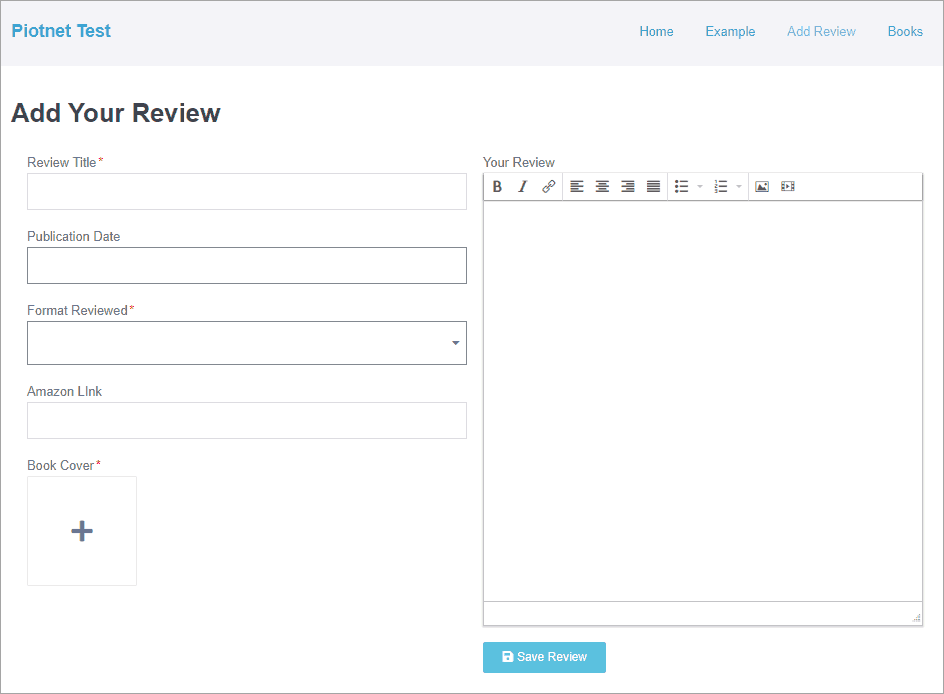 Results and AJAX Search Feature
Even though it was a bit cumbersome to setup, I was pleased that it worked well. Here is the Book Single page created using an Elementor Pro template.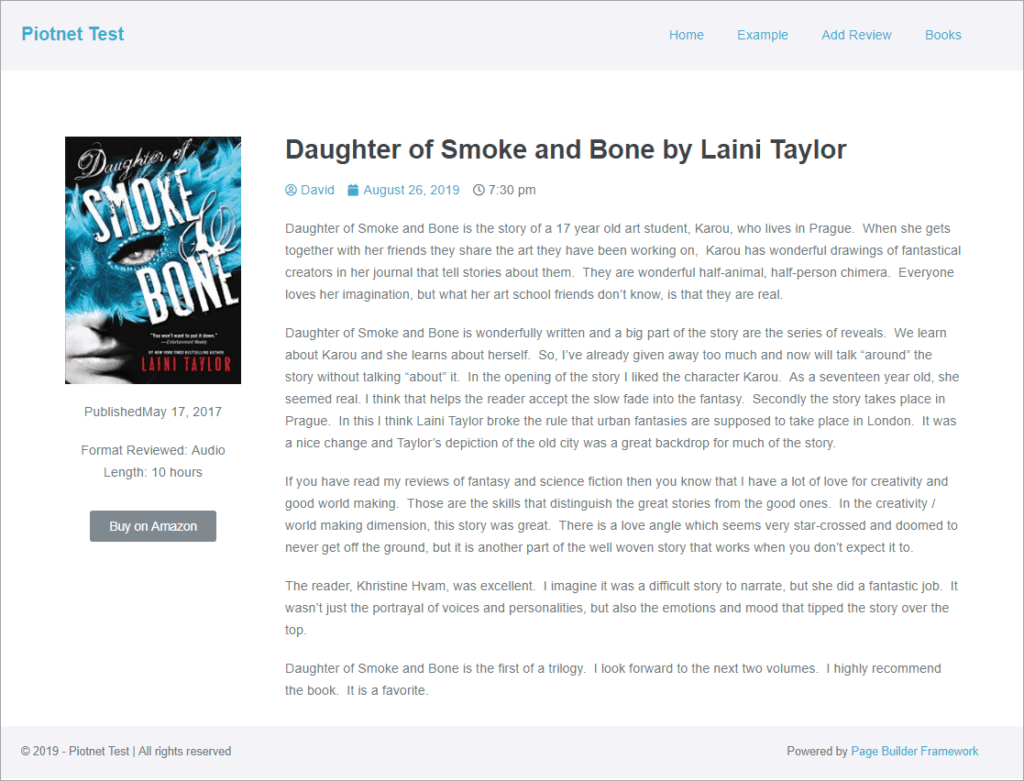 Here is the Book archive, also created using Elementor Pro. For the archive, I added the PAFE AJAX search, shown below.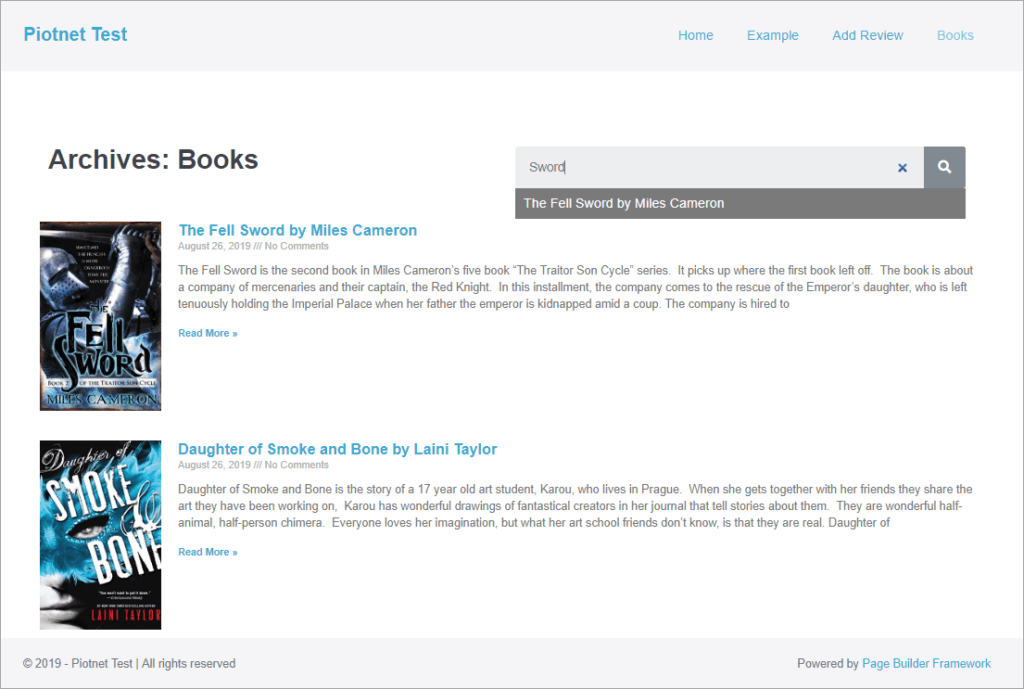 The PAFE AJAX search is not a separate widget. First you add the regular Elementor Search Form widget and then you enable the AJAX Live Search feature. When you do that you select a post type and have some styling options.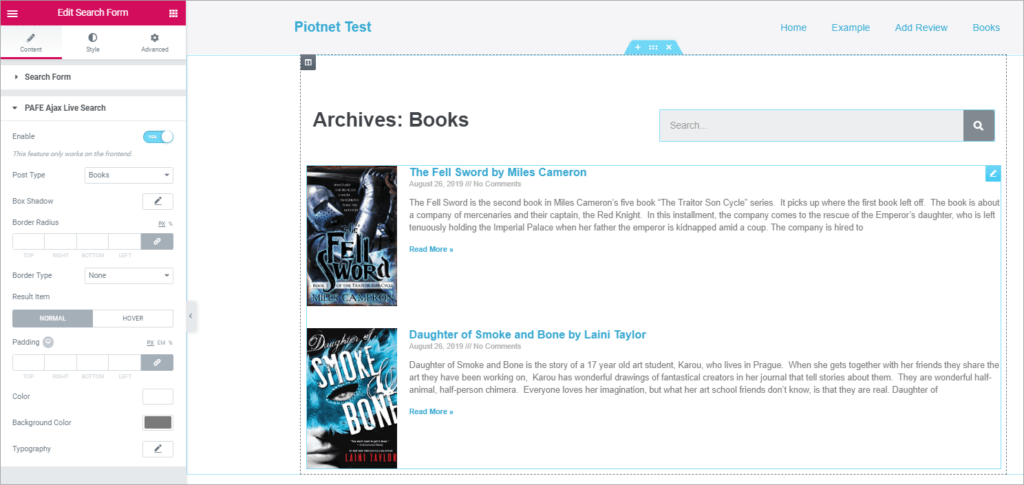 Documentation and Support
There are 39 video tutorials accessible on the PAFE website. They range in length from a minute to around 10 minutes. Some of them are narrated and others not. These videos are great for seeing the steps needed for using the features, but it is not always clear where you begin to access the features. Some accompanying written documentation would be helpful.
I submitted a couple of support requests and the response was pretty amazing. I asked about Toolset support and then later about supporting additional field data types. Each time, the next morning, I got an email saying the features had been implemented. It doesn't get better than that.
Summary and Conclusions
The many position and display enhancements that PAFE adds to the widget settings would be useful for some circumstances. However, I imagine that users will only turn on the ones they plan to use so as to avoid editor clutter. Better organization, more documentation, and a visual indication when settings are being used would help to maximize the ability to use them.
There is no other front-end form builder integrated with Elementor, making the Piotnet Addons unique. Additionally, the advanced features available with the form builder takes it into the advanced functionality category. That said, it is something of a power tool for power users. Careful setup yields good results.
The pricing of PAFE is very reasonable and it has a lifetime option. If the developer maintains the pace of refinement then PAFE will be a must have addon for advanced Elementor sites.