Widget Detector for Elementor Is A Lifesaver When You Need It
Have you ever wanted to switch Elementor addon packs?  Did you wonder if it was safe to remove an Elementor addon?  The problem was that you didn't know if it was in use.  It can be painful to go page by page checking if the features of an addon are in use, but if you remove an addon that is used then you can break your content.  Up to now Elementor users were out of luck, but recently a new plugin was released.  It is called Widget Detector for Elementor and it is a free plugin in the WordPress plugin directory.
Video Version
Overview

The plugin only has about 80 active installs, which doesn't seem like many, but if you think about it, this is one of those types of tools that after you use it you don't need to keep it installed. I was curious how this worked, so I gave it a try.
When you install the Widget Detector plugin you get a new menu item in the WordPress admin. The first 5 menu items are the reports and we will look at those in a moment. The Support menu item takes you to the support forum on WordPress.org.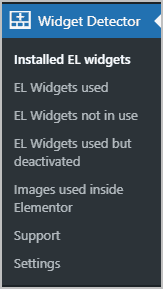 There is only one option on the settings page and that is to show the plugin and widget name when you hover over it on the page in the Elementor editor.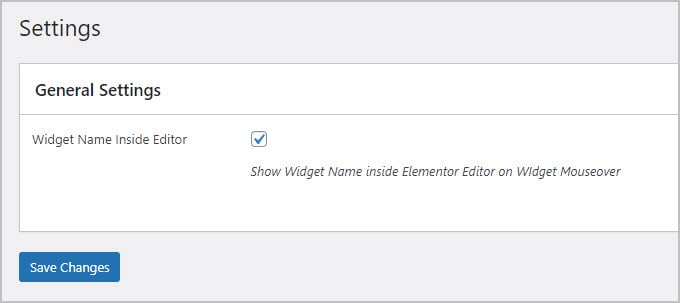 Reports
Installed Widgets Report
The first report shows you a list of all of the widgets that are currently installed. It tells you the category in the widget list in the builder, the widget name, the widget slug, shows you its icon, and tells you which plugin it comes with. This can be a pretty long list, but I checked it over on my site and it looks to be complete. It even includes non-Elementor plugins, like Fluent Forms, which include an Elementor widget.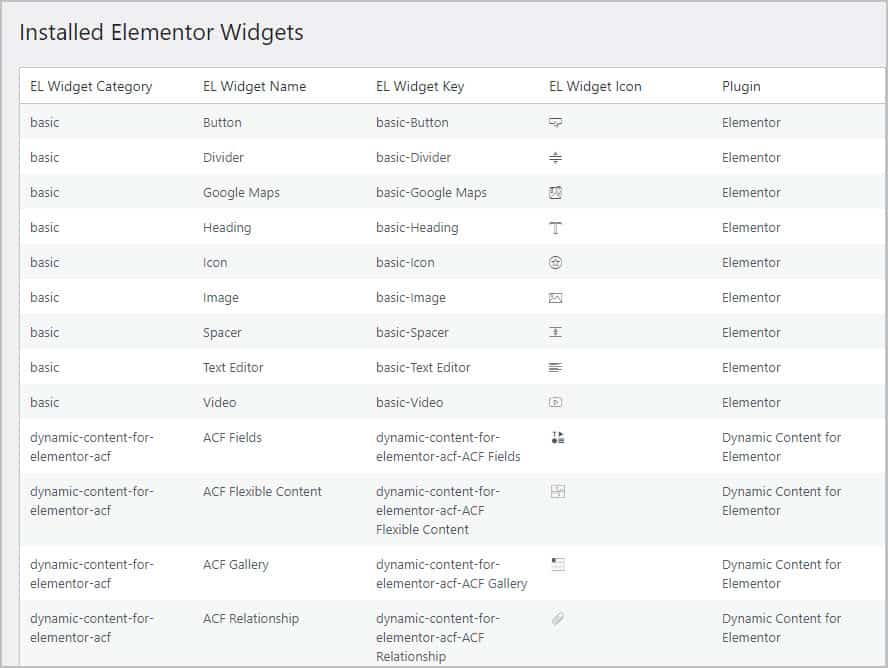 Widgets Used Report
The second report is the widgets used report and is probably the most valuable. shows you the widgets in use. You can browse the widgets in use by page, or filter on a widget to see where it is used. The report has some convivence links to see the page or edit it, which can save some time.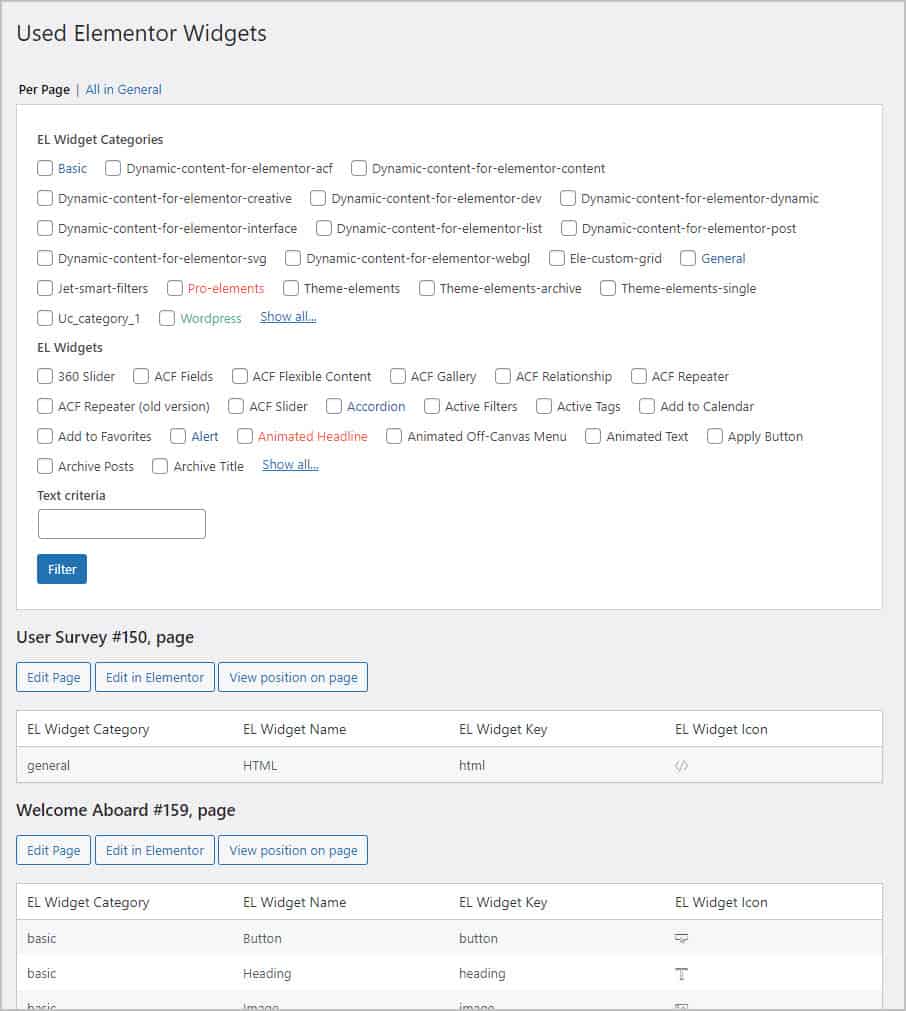 Widgets Not Used Report
This report is another long list, but it could be helpful if you wanted to disable some of the widgets that aren't being used.
Widgets Used but Deactivated Report
This report shows a list of widgets that have been used on published pages, but that aren't active. I ran this on my test site and it found the PowerPack for Elementor Posts Widget. This had been used on the old home page and that page still exists, though it is not shown anymore. I had removed the PowerPack Elements addon a while ago.

Images Used in Elementor Report
Finally, there is a report that shows, page by page, the images that have been used inside the Elementor editor. There were also some interesting notes, like that the image is a very large size.This report also has links to view or edit the page. I suppose this report might be useful if you were trying to clean the media library.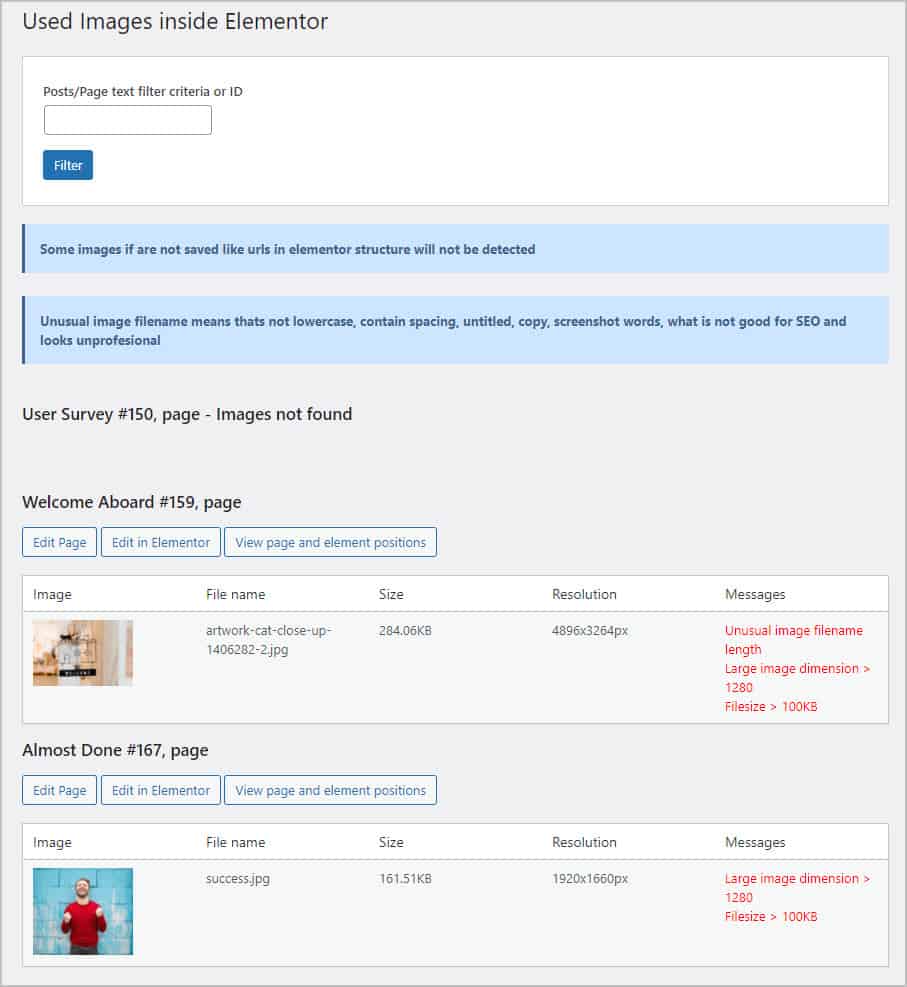 Discussion and Conclusions
I was looking at old posts in the Elementor support forum and noticed users asking for this functionality. I've have need of the plugin myself when updating the Elementor360 website. So, there is a need and it is a useful plugin.
One limitation the plugin has is that it doesn't show you where Elementor extensions were used. Some Elementor extensions provide features like copy and paste across sites, which might not matter for this type of scenario. However, there are some extensions that add things like widget placement or advanced style options, and if the plugin support for them was removed then that content could lose its formatting and be broken. Still, I'm glad I found the Widget Detector plugin for Elementor and wanted to let you know about it in case you might need it.