Introduction
This is a review of Essential Addons for Elementor. It is a comprehensive suite of widgets and extensions for Elementor and one of the top addons available. In this review I touch on all of the major areas of consideration, including an evaluation of the "standard" addon widgets, dynamic features, integrations, advanced features, as well as its quality and feel.
Video Version
Overview and Getting Started
Free Version
Essential Addons has a free version which is available in the WordPress plugin directory. It has more than 60,000 active installs, making it the most installed free addon for Elementor. Essential Addons is regularly updated and has more than 1,475 five star reviews.
😎 I noticed that the developers are active in the support threads, so even users of the free version get help.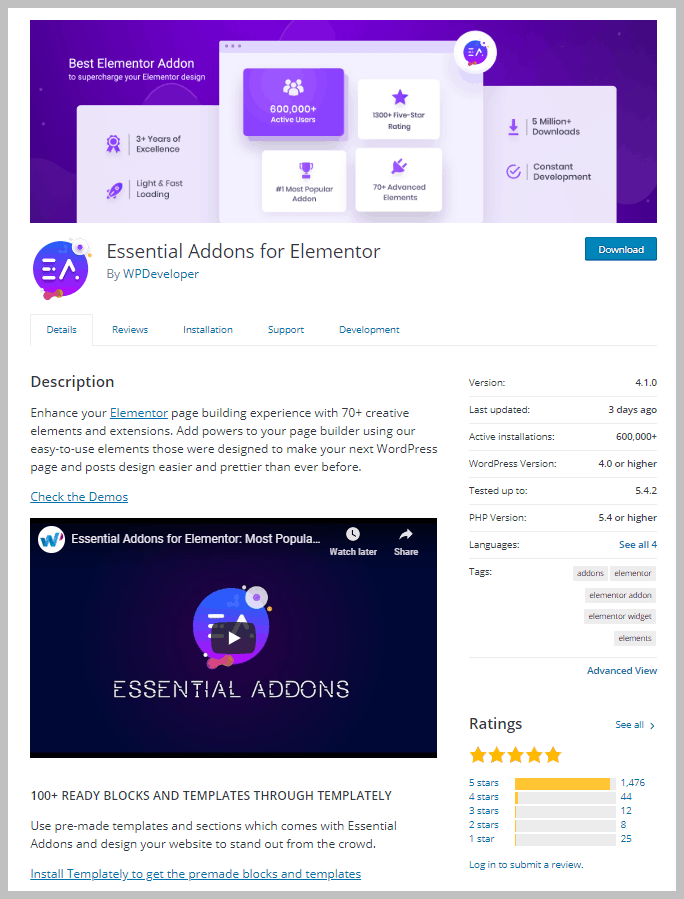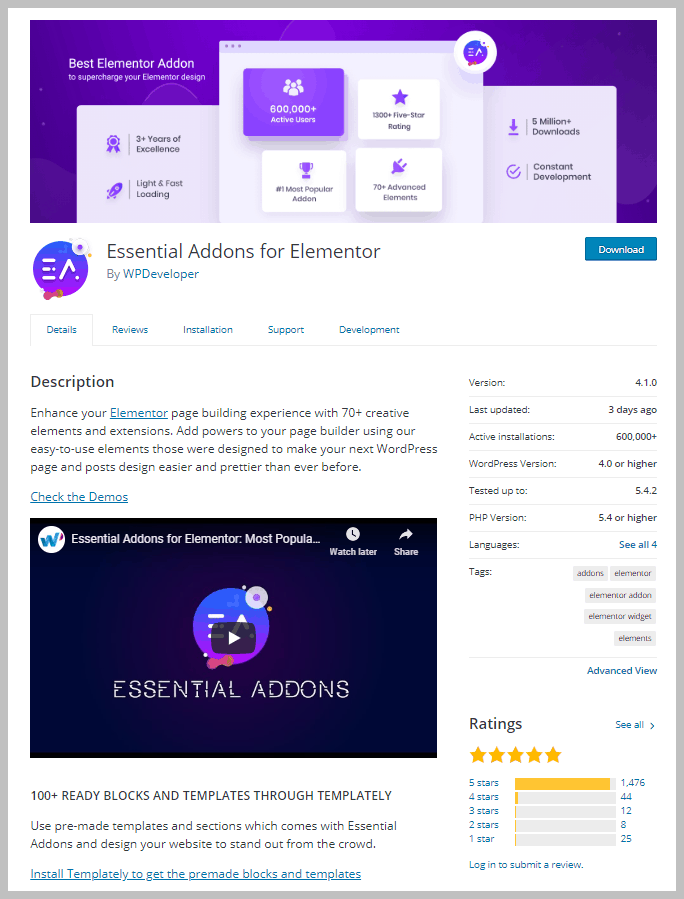 You install Essential Addons the same way you do any other plugin through the plugin screen inside your WordPress admin interface. Once installed, you get a new admin menu that has links to the help and documentation pages. Other options are available from the tabbed sections.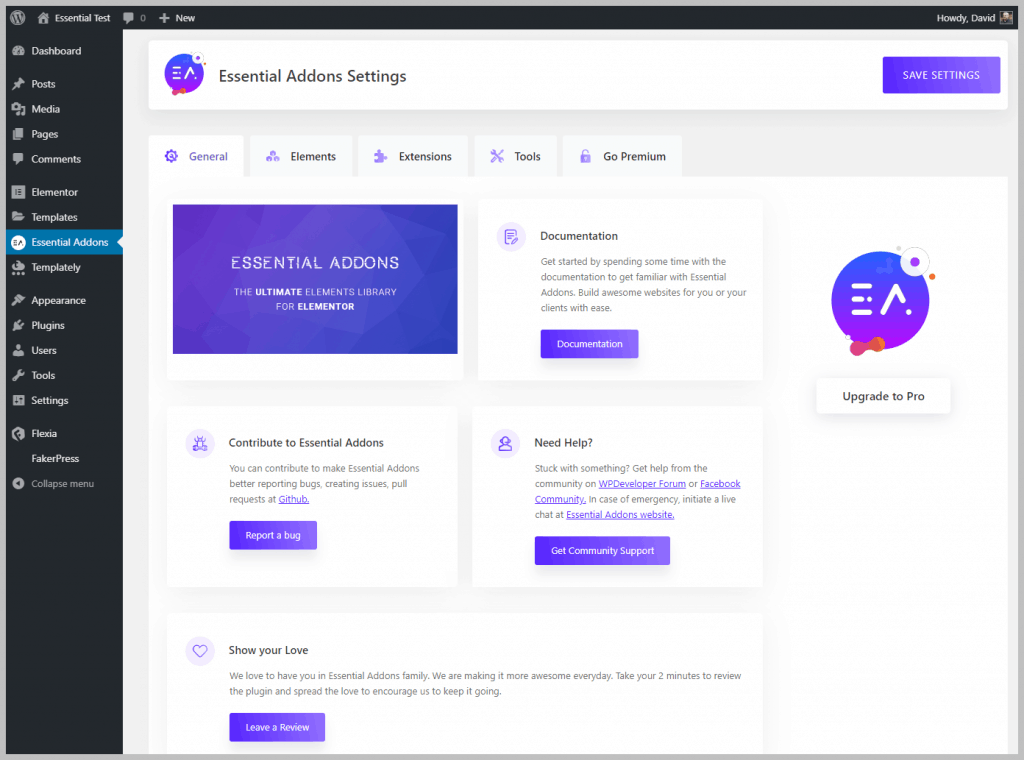 There is an Elements tab item where you can disable any elements (widget) that you are not going to use 😎. This is a great feature and helps to avoid the Elementor editor from becoming overloaded with unneeded widgets. The free version comes with around 40 widgets. The elements available with the Pro version are also shown. This is a non-intrusive way to show the user what comes with the paid upgrade.
Note also the link next to each element where you can click to view a demo or the documentation for it. It seemed like every one had a short video showing how to use it 😎.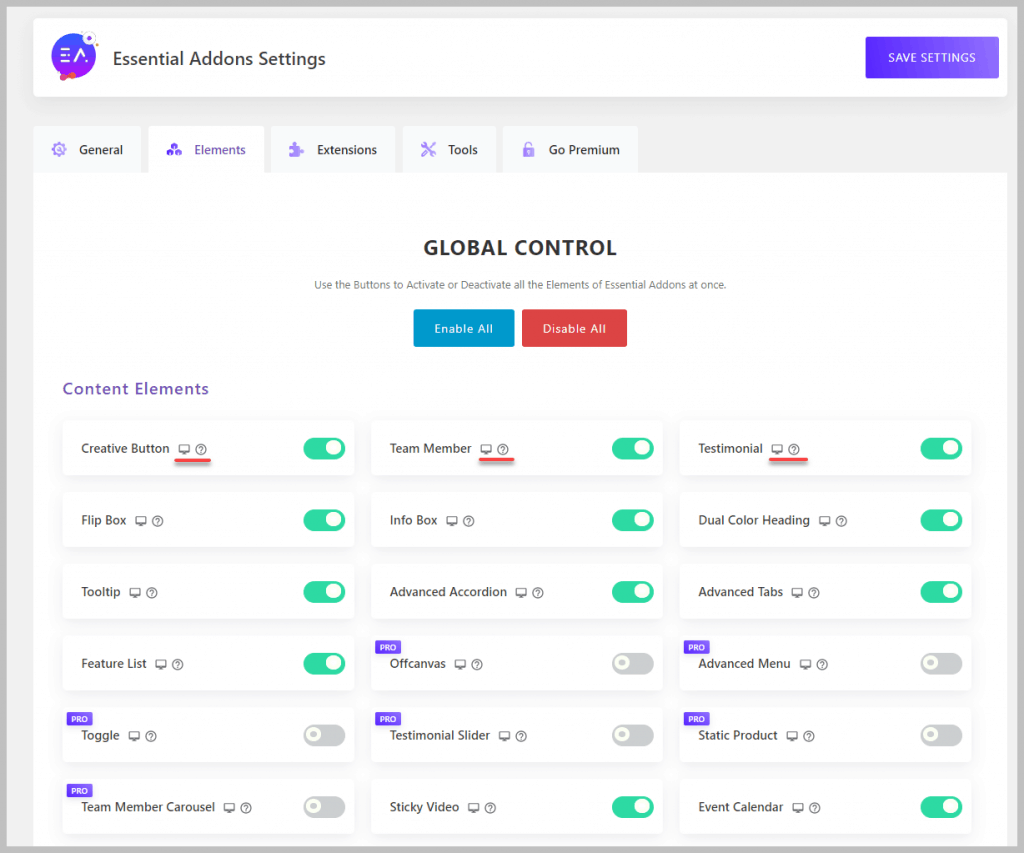 There is a similar tab for Extensions. An extension is a feature that applies to multiple widgets. The free version comes with 4 extensions. Note there is also has the ability to disable any you are not using and there are also help and documentation links for these. The extensions that come with the Pro version are also shown.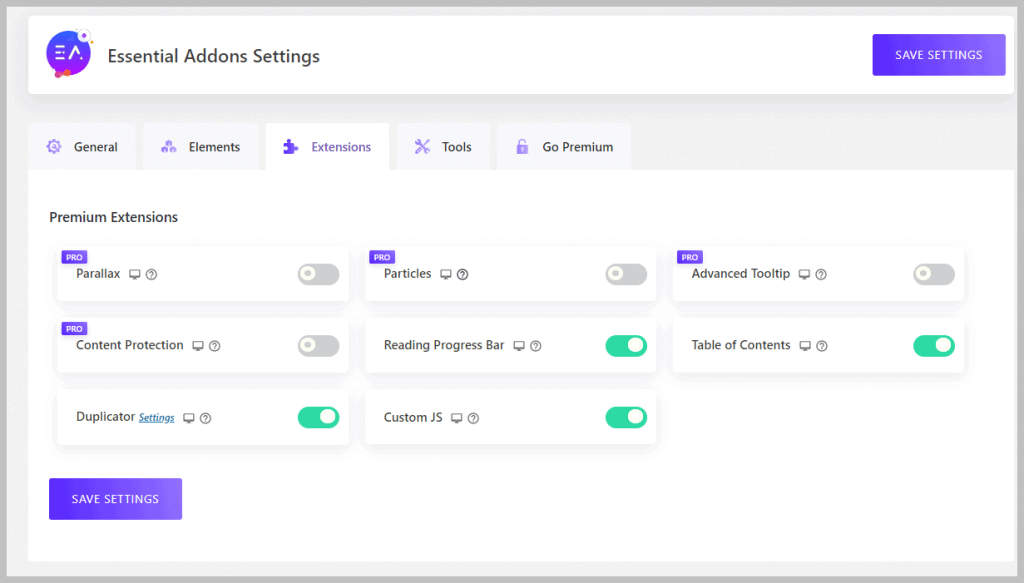 There is a Tools tab for regenerating the styles and scripts files and adjusting the way these are loaded. You probably won't need to use these.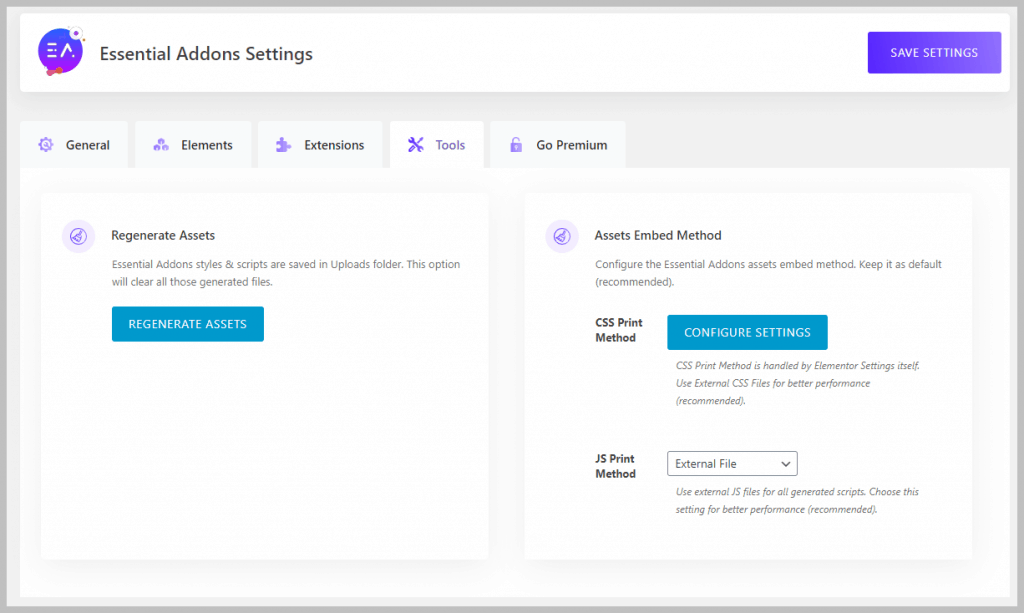 There is also a tab that links to the Essential Addons for Elementor website where you can upgrade to the Pro version.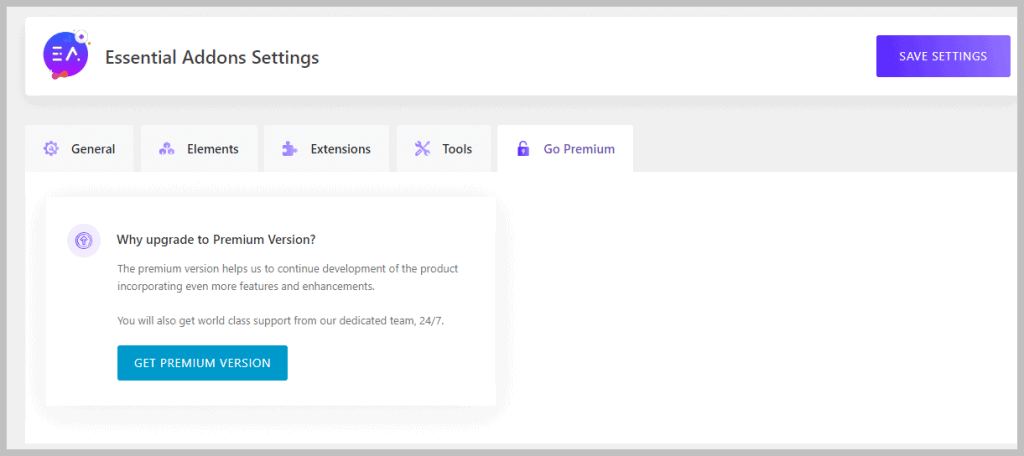 When you go into the Elementor editor you see a section for the Essential Addons widget below the Elementor panels. It can be hard sometimes to find the one you need, so I was glad to see that they were listed in alphabetical order 😎. Perhaps that seems like a small thing, but Elementor itself doesn't order it's widgets, except by broad category.
However, I was a bit surprised to see the Pro widgets listed also 🤨. The Pro widgets are disabled with a lock icon and if you click on one you get a message about purchasing the Pro version. Adding these unusable placeholders makes for a lot to scroll through. Elementor itself now does this so it is hard to fault Essential Addons, though it would be nicer without it. I installed the lite version of HappyAddons and PowerPack Elements and found that HappyAddons also shows a placeholder for its Pro widgets, though PowerPack does not.
Pro Version
Essential Addons for Elementor Pro is available from the product website. It adds about 30 additional widgets and 4 additional extensions. There is a demo page for each widget and good documentation.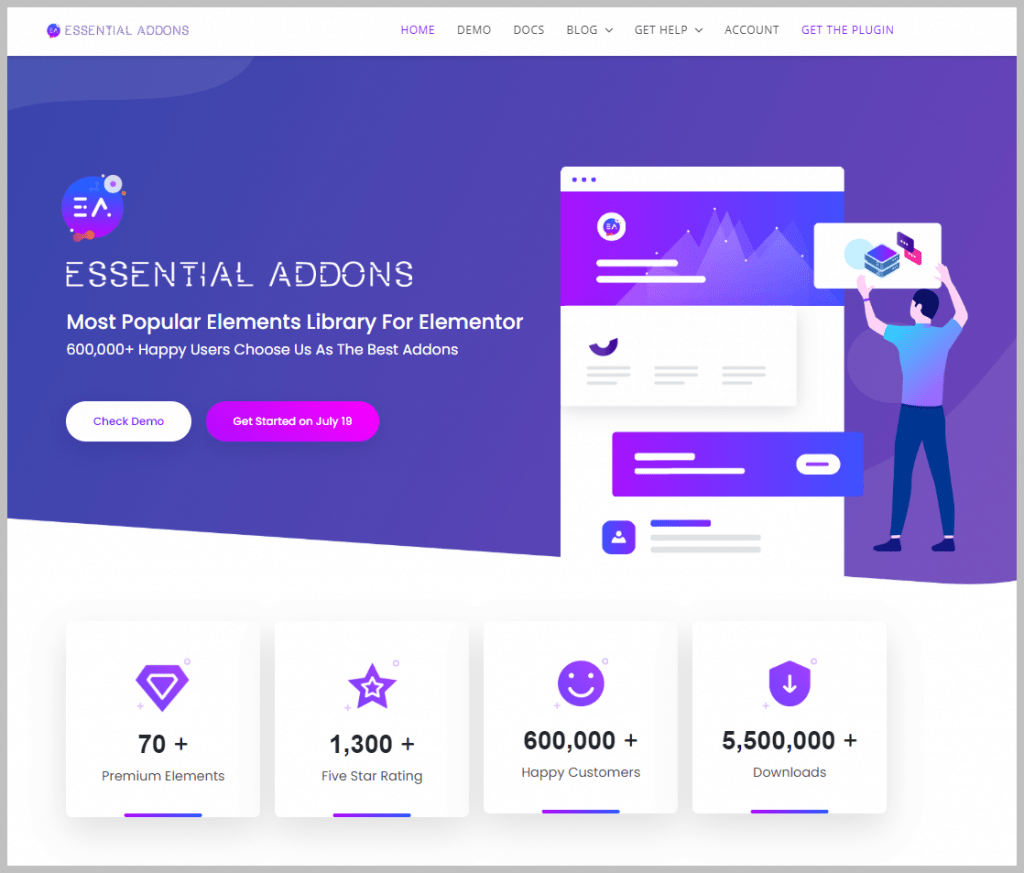 Essential Addons is available as an annual subscription for a single website or for unlimited websites. There is also a lifetime unlimited option 😎. I was very surprised at the affordable price for the lifetime package 😍.
The maker of Essential Addons has several other plugins and a theme available and there is an annual and a lifetime Agency package that includes a number of their other products.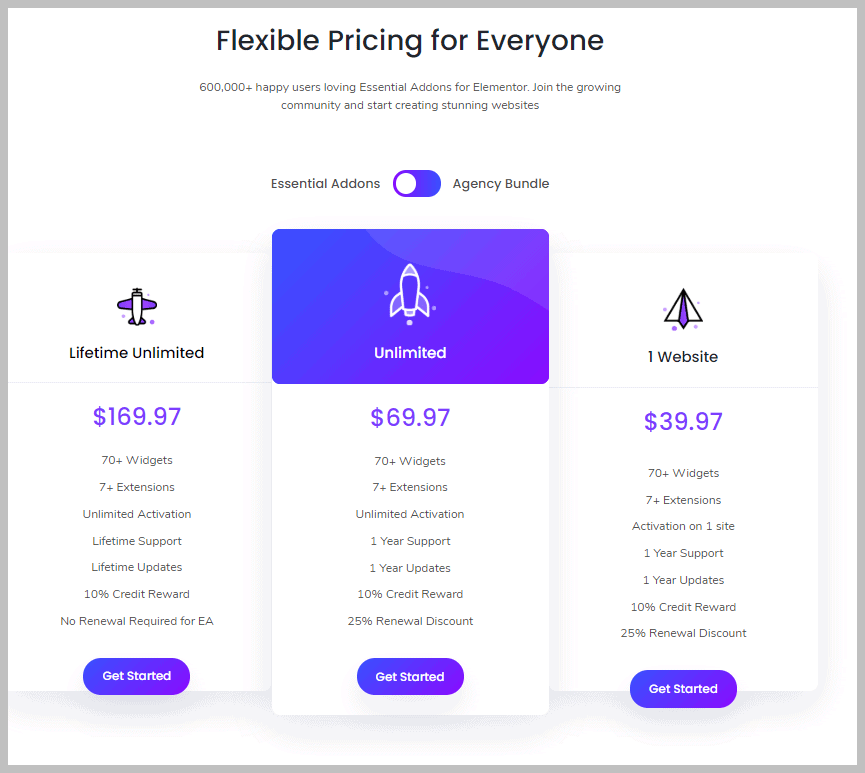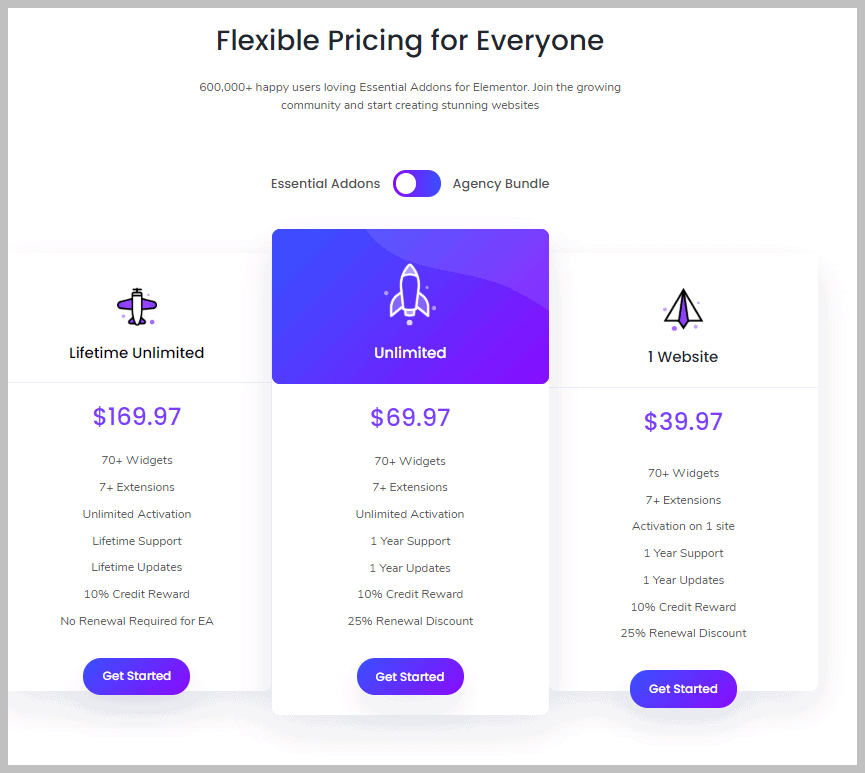 What About Templates?
Many addons and Elementor itself provide pre-designed blocks and templates. Rather than include those with Essential Addons, the developers have a separate plugin, Templately, which provides a large number of blocks and templates that work with Essential Addons. Templately offers cloud storage, team sharing, works with Gutenberg, and other features. I did a walk-through and review of Templately and was very pleased with it.
Standard Addon Widgets
I think it is pretty common to have an Elementor addon that brings in a number of "standard" widgets and then maybe supplement that with specialty addons. These standard widgets include enhancement versions of base Elementor widgets, such as buttons, headings, icon lists, accordions, tabs, and gallery widgets that bring more options and styles. Then there are also widgets that are alternatives for some of the ones that come with Elementor Pro, so people using the free version of Elementor have them available. These include widgets like flip boxes, pricing tables, counters, menus, and call to action widgets.
For example, Elementor comes with a Heading widget. It offers basic content and style options.
Elementor Heading Widget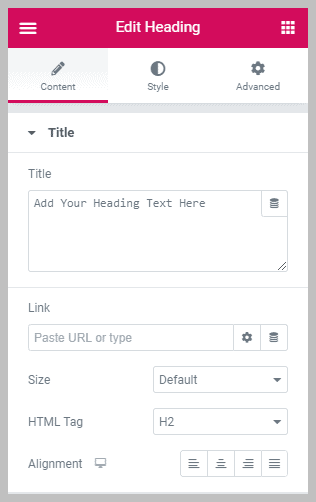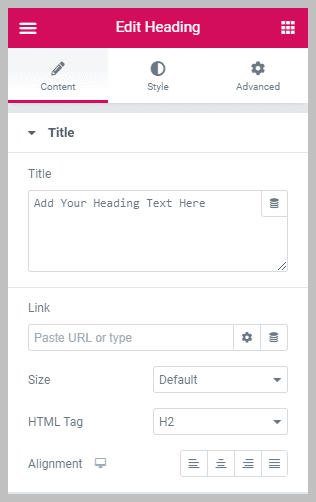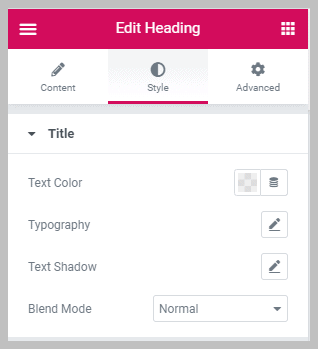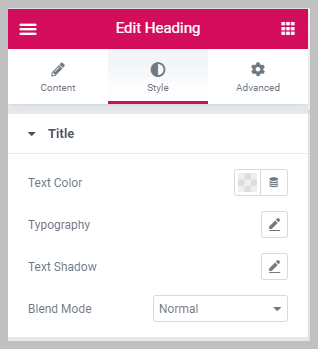 Essential Addons Dual-Color Heading
Essential Addons comes with a Dual Heading widget that allows you to split the heading text in two and give each part a different color. It also allows for subtext and an icon.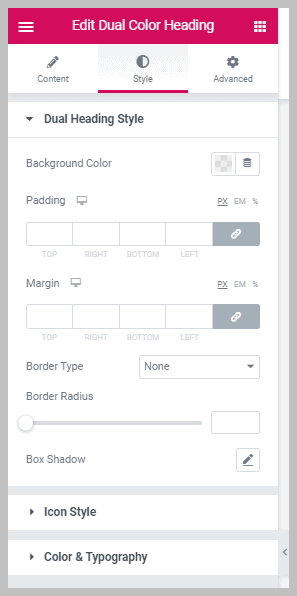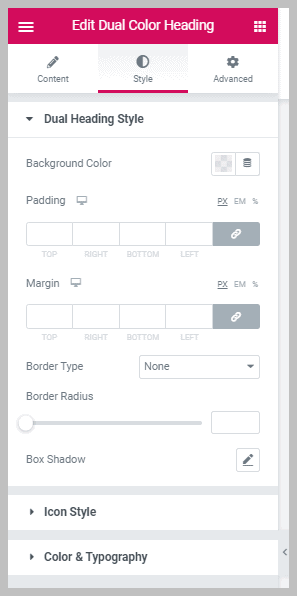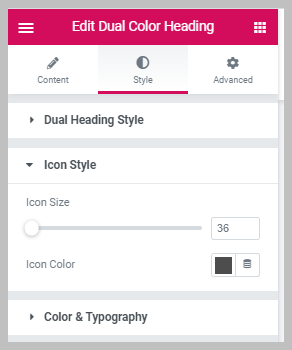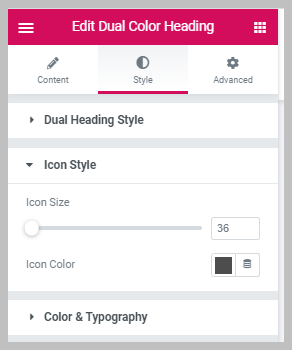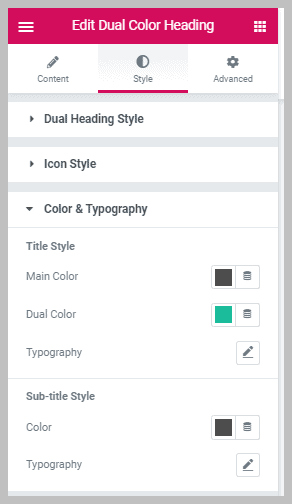 Essential Addons includes a good range of standard addon widgets that are enhancements for the ones that come with Elementor free and that cover many of the Pro elements, though not Popups and Forms 😎. My sense is that Essential Addons is not trying to be a replacement for Elementor Pro, but that it does provide alternatives for many of the content and creative widgets. People should not expect one-to-one parity with every setting in Elementor Pro, but instead, functionality that will fill in the gaps if you don't have Pro or that will provide an interesting alternative if you do.
Dynamic Features
Of course, we are all used to typing in content that is static and doesn't change, but there is a great deal of flexibility in pulling the data dynamically.
Using Widgets in Templates
One way that widgets are used dynamically with Elementor Pro is by including them in theme templates. If you are familiar with Elementor's Theme Builder then you have seen the database icon symbol for Dynamic Tags. Dynamic Tags are placeholders that you can use when pulling information from fields of the post or Custom Post Type. They are normally enabled with Elementor Pro.
Support for Dynamic Tags is a sign of a higher level and more sophisticated Elementor addon. I took a look at a number of the Essential Addons widgets and saw that many of them had support for Dynamic Tags 😎. This means that they can be used in theme templates.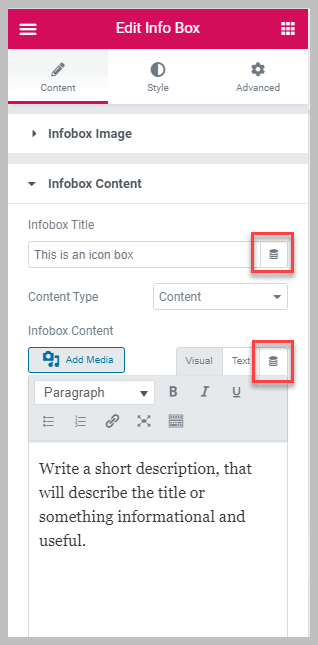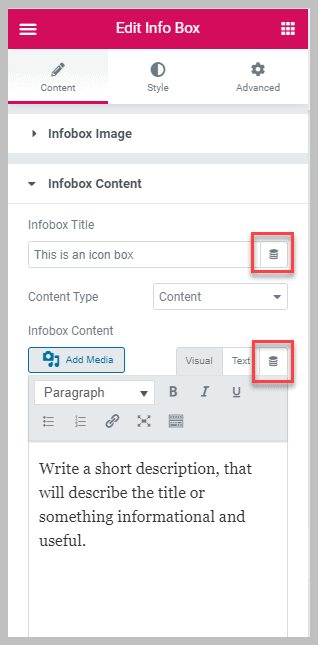 I was a bit surprised, however, that Dynamic Tag options were not available for the Creative Button or the button on the Info Box widget. When you are pulling data dynamically URLs are often one of the typical sources 🤔.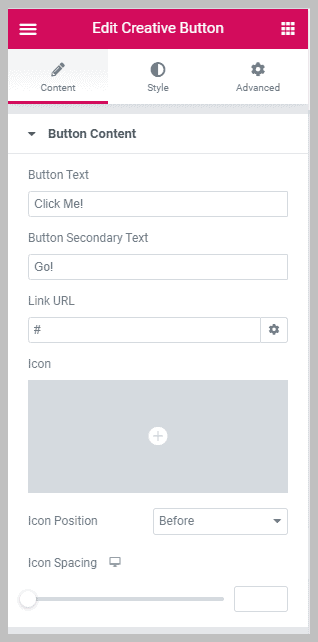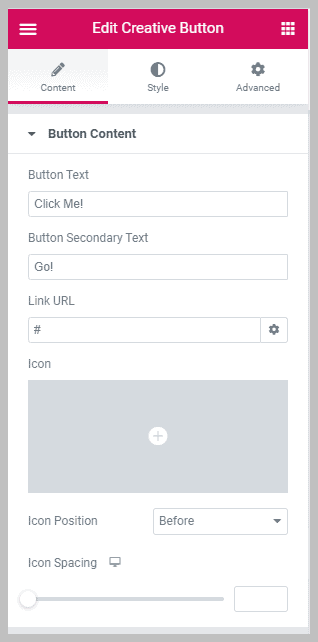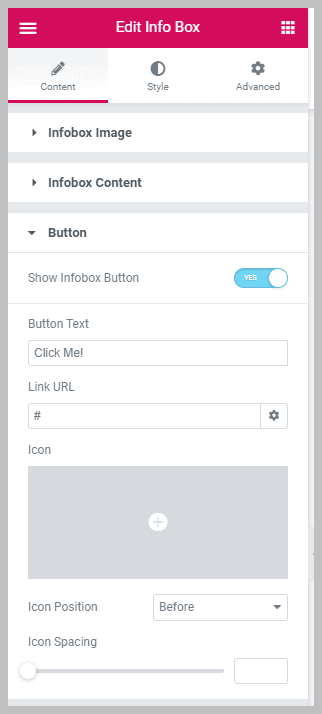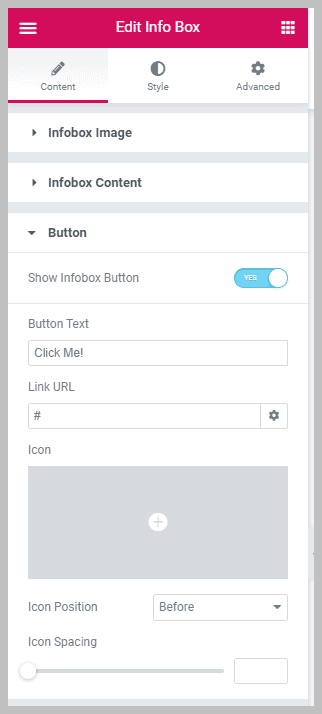 There are a number of widgets and extensions included that are great ones for use in theme content templates. These include the Table of Contents extension, Reading Progress extension, and the Advanced Menu widget 😎.
It should be noted that the Table of Contents and Reading Progress features can be enabled for all of your posts site-wide, without needing to create a content template, if that desired.
Displaying Posts
One thing I've come to appreciate is flexibility when trying to display Posts or Custom Post Types for archives or for promoting certain categories of content. Some addon vendors try to solve this with one Posts widget that has a huge number of options. Essential Addons approached this by having several Posts display widgets each with different layout and style options. This made sense for picking the widget based on how the content would be displayed. There are Post Timeline, Post Block, Smart Post List, Post Grid, Post Carousel, and Dynamic Gallery widgets that provide different display options.
For example, here is the Dynamic Gallery widget, which allows you do display the content in a grid or masonry layout, together with category filters. This was very easy to setup and included query options when setting up as well as front-end filters for user interaction. Note there is a light box option and click to the article link when you move the mouse over an article in the grid.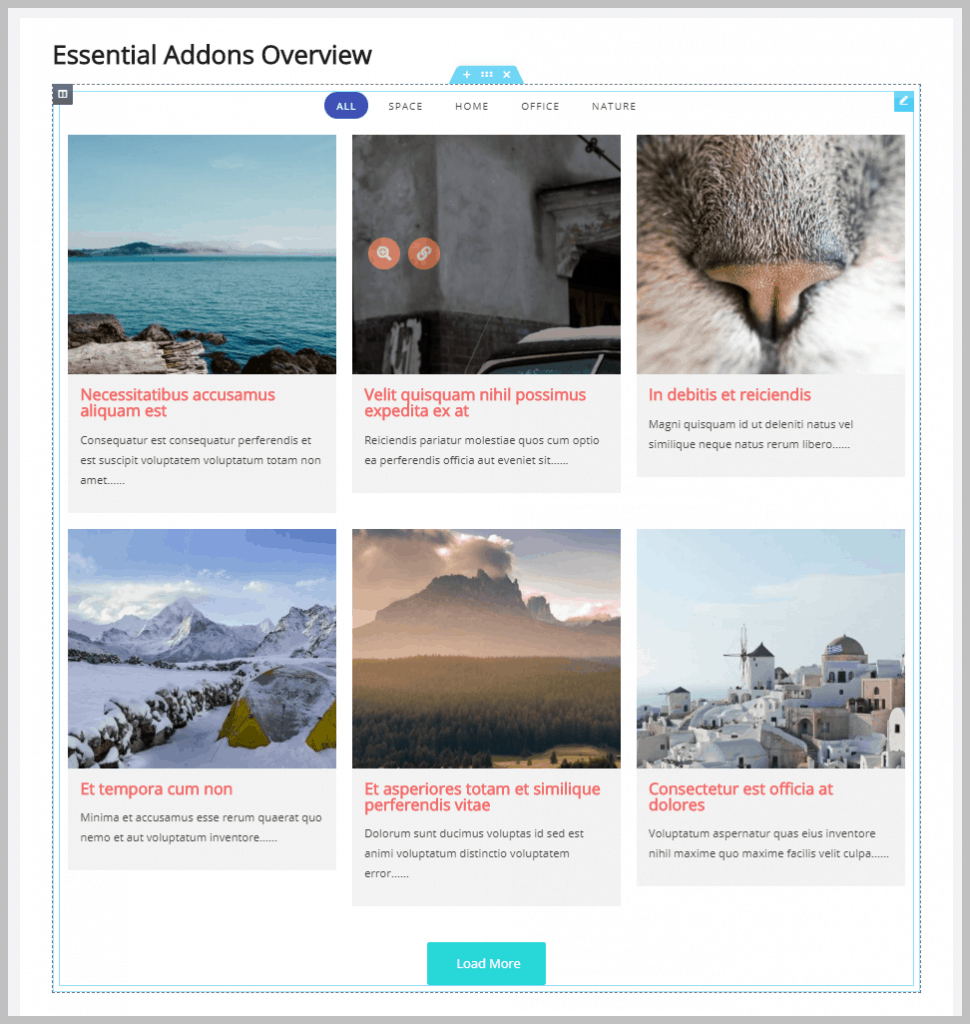 Here is the Smart Post List widget, which also has the option for category filters.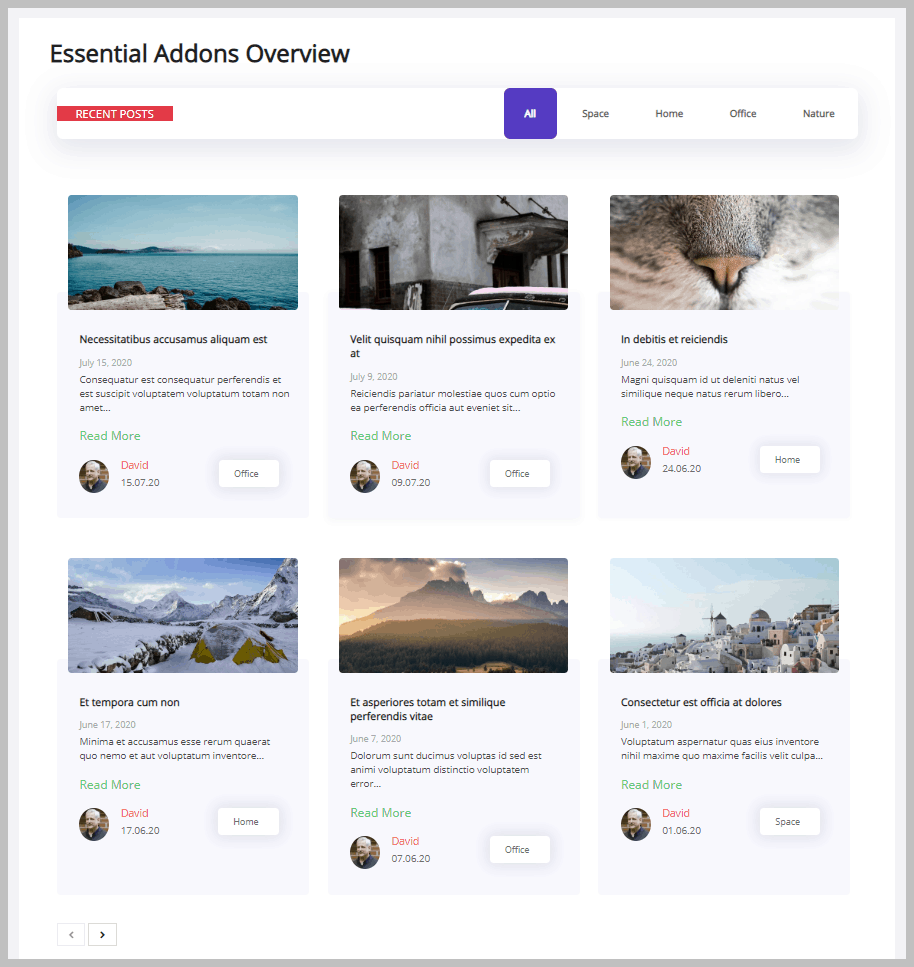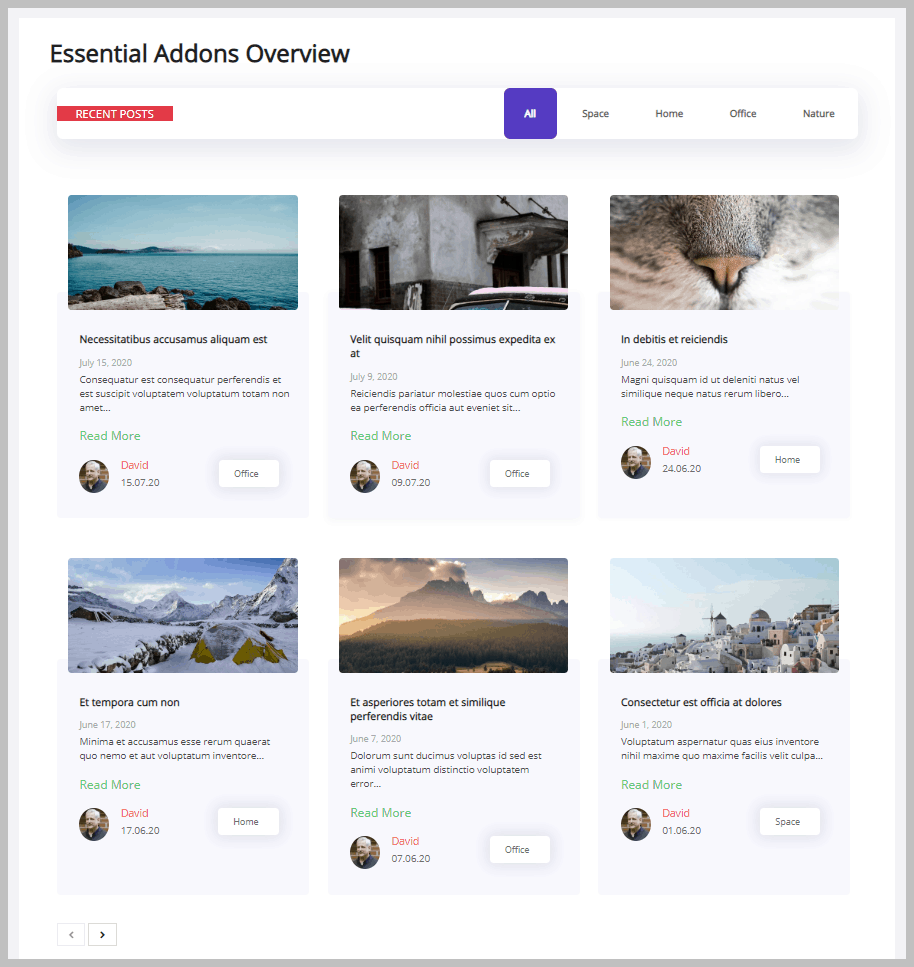 😀 The various widgets provide a good range of options and the output can easily be styled, but I wouldn't call them advanced.
Pulling in Data From Other Sources
Essential Addons includes an advanced feature, the Advanced Data Table widget, that is very powerful and unique. You can pull in data using a CSV file import, from the site database, from a remote database, from Google Sheets, and from popular table plugins like TablePress and Ninja Tables 😍.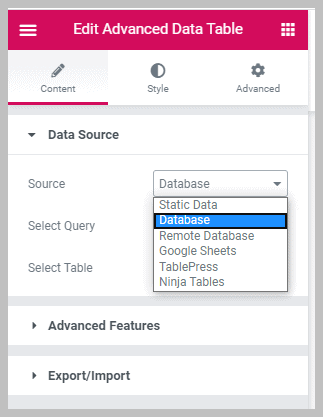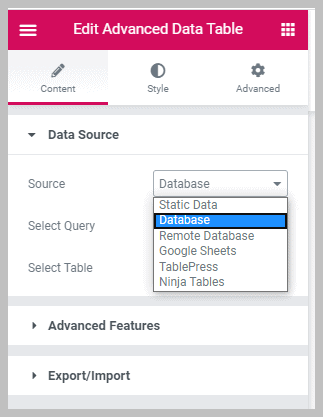 When you are pulling data from a database you have the option to construct your own SQL query 😍.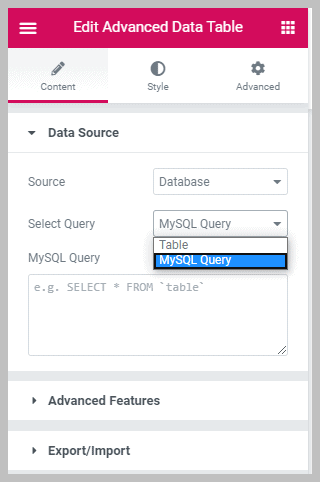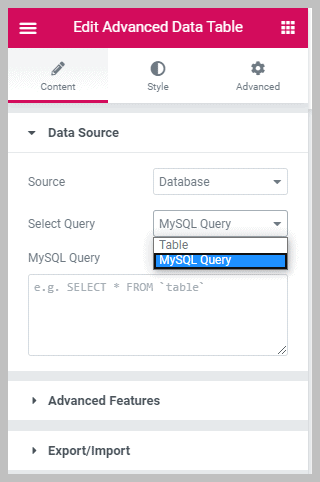 There is also the option to enable front-end sorting and searching on the table 😍.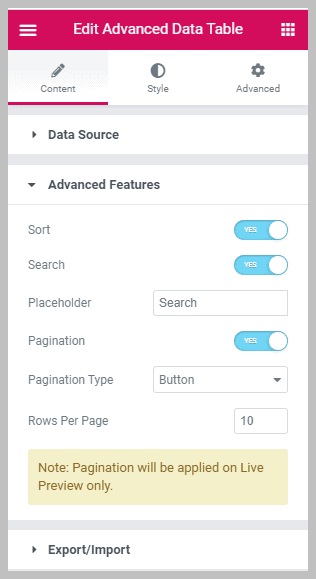 To try it out, I imported a CSV file of Hybrid SUV models as an example table.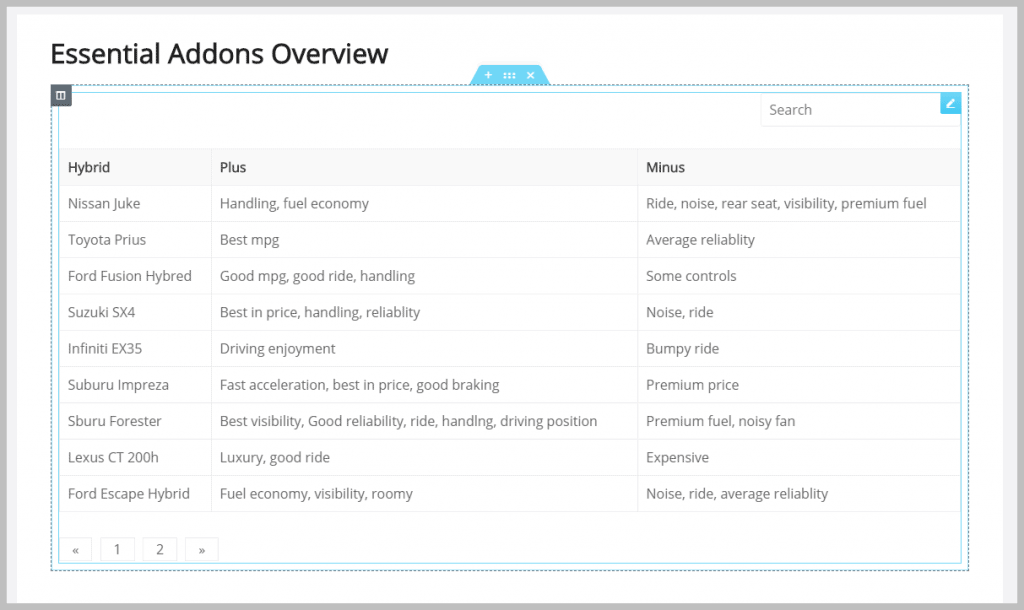 😍 Another nice feature of the Advanced Data Table is that it allows for inline editing. With most Elementor table widgets, adding data is awkward and done in the side Content panel for the widget. With Essential Addons you can right click on the table in the editor, add rows or columns, and then type the new data in directly.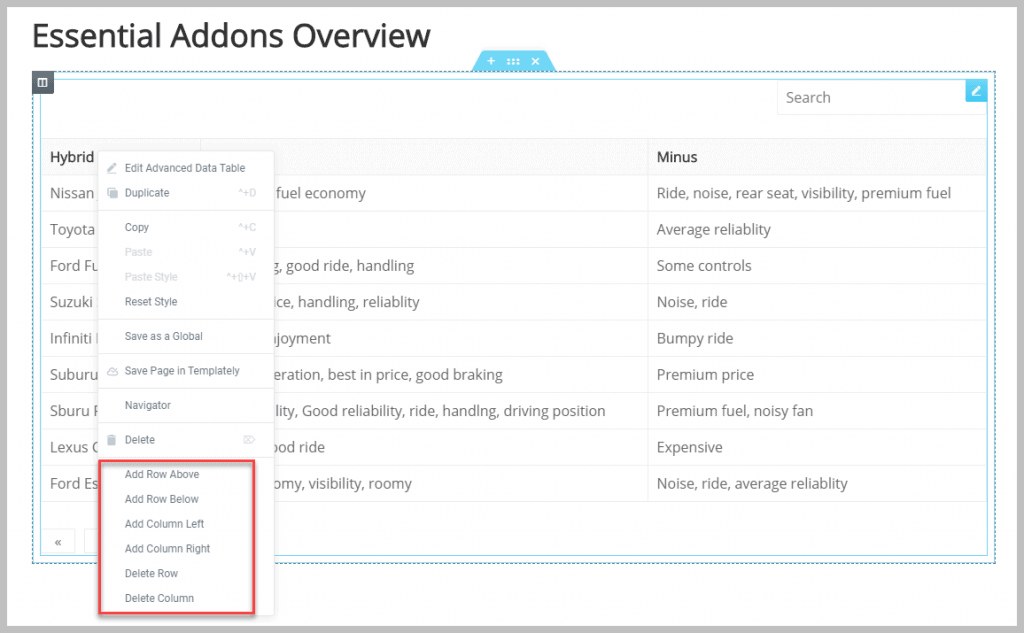 Integrations
Essential Addons for Elementor has a large number of integrations that allow you to include functionality in your Elementor page. There are 10 form integrations (MailChimp, Contact Form 7, Gravity Forms, Ninja Forms, WeForms, Caldera Forms, WPForms, FluentForms, Formstack and Type form). Not only can you embed a form on the page, but you can also style them using Elementor.
There are 4 social widgets that allow you to bring in data from social networks. There is a Facebook, Twitter, and Instagram feed widget as well as a Twitter Feed Carousel widget. There is a LearnDash Course List widget, three BetterDocs widgets, and three WooCommerce widgets. This makes a total of 21 integration widgets 😎.
Other Advanced Features
In addition to the Advanced Data Table, there are a few other advanced features that come with the addon. Perhaps the most popular and often used is the Post Duplicator extension. This adds an "EA Duplicator" link under each Post or Page on the list in the WordPress admin. I've heard a lot of people complaining about the old Duplicator plugin not working with Elementor content, so it is nice that there an option from the Elementor community that works well 😎.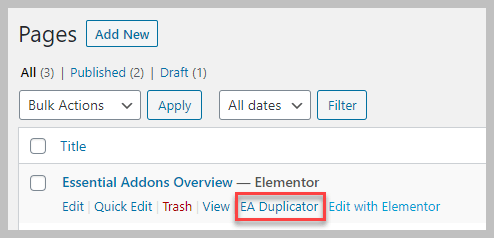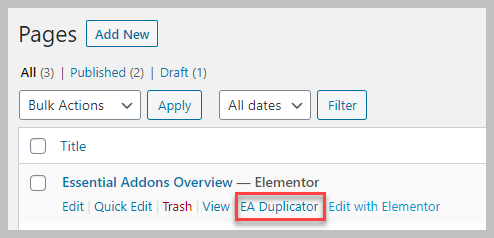 Other advanced features are related to content protection. Essential Addons has two ways that you can protect content. There is a Protected Content widget which is like an Elementor Text Editor widget, except that it has the ability hide the content of the widget by password or logged in user role.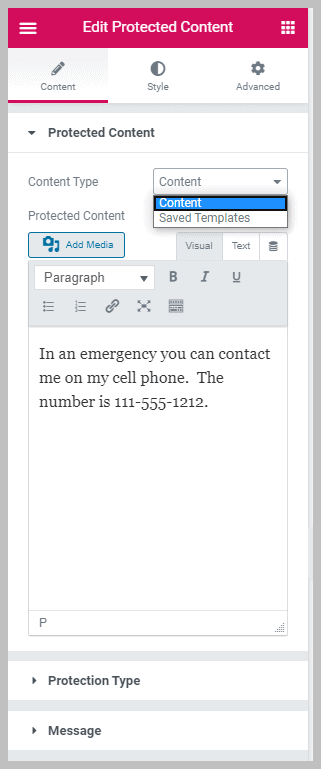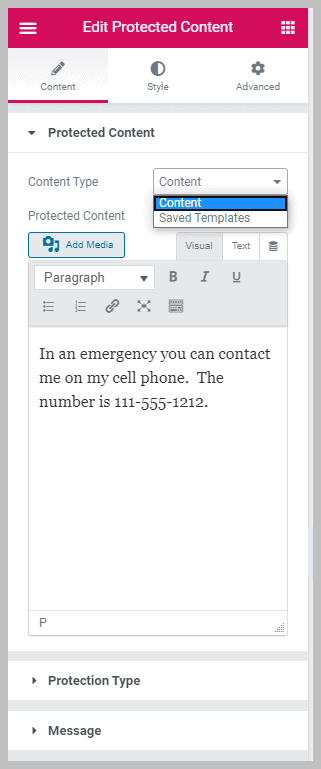 The other feature is the Content Protection extension. This allows you to restrict the view of any Elementor widget's content, also based on either a password on the logged in user role. You find this feature on the Advance menu when you have a widget selected in the editor.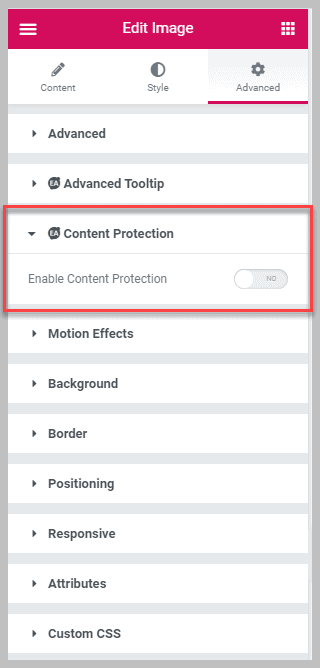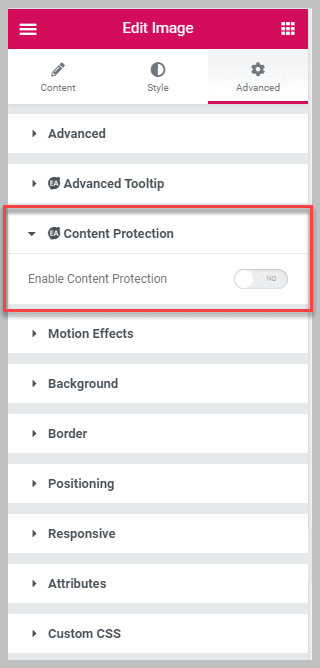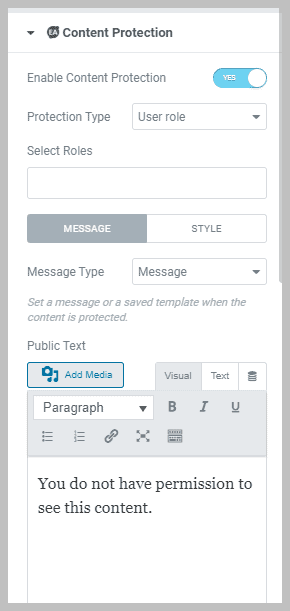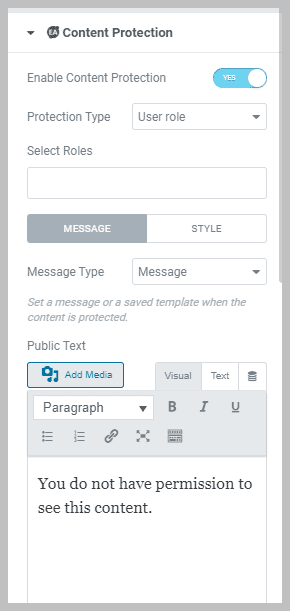 I tried protecting a Section, but the extension can only be applied to widgets 🤔. That seemed a bit odd, but the Content Protection widget allows you to use a template, so I guess that is how you would protect part of a page. Overall, the protection features work well and are a nice addition to Elementor 😎.
😎 There is one more standout widget that should be mentioned: the Event Calendar widget. Adding a calendar to your site, not to mention to your Elementor pages, usually requires jumping through a lot of hoops. With the Event Calendar widget you have the option to add events manually or you can link it up to your Google calendar and add them that way. The nice thing is that you can style your calendar using Elementor.
Summary and Conclusions
Essential Addons for Elementor is mature enough that I didn't run into any bugs or issues. There were a few things that surprised me, but overall it is a very solid offering. Here is the detailed summary.
Standard Addon Widgets
😎 Many people install at least one "base" addon pack to fill in the gaps and extend the basic Elementor features. Essential Addons has a large number and variety of widgets that make it a good go-to for this purpose.
Dynamic Features
😎 With Elementor Pro installed, many of the widgets show support for Dynamic Tags so your data can be pulled from the database. This makes them usable in content templates. 🤔 I'd like to see the few widgets that don't support Dynamic Tags, like those with buttons, add them so that their extra features and styling are available in templates. 😎 There were some nice widgets and extensions that are useful for theme building, like the Table of Contents, Reading Progress and Advanced menu.
😀 There are some nice widgets for displaying posts in different formats, which complement the ones that come with Elementor.
😍😍😍😍 The Advanced Data Table is a unique and powerful widget. It is the most advanced table widget for Elementor available.
Integrations
😎 The ability to easily bring content created outside of Elementor into your pages helps your content to be more unified and coherent. It certainly makes it easier to add it to your pages and you don't have to mess with shortcodes. Essential Addons has 21 integrations.
Advanced and Unique Features
😎 Essential Addons comes with the Post Duplicator extension, which is a real quality of life improvement. 😎 The content protection of widget and template content is nice and is a feature that few other addons provide. 🤔 It would also be nice and make sense if it were possible to protect a Section.
😎 The Event Calendar widget is another nice feature of Essential Addons. For sites that don't need an entire event management system, it could provide stylish options where event dates are managed from Google calendar.
Quality and Feel
In terms of ease of use, polish, flexibility, and attention to details, there were several things that caught my attention. 😎 I appreciate it when plugin developers provide a way to disable elements in the builder that you don't intend to use. At the same time, 🤨 I was surprised to see the Pro elements listed as placeholders in the Elementor editor. Elementor itself does this and it is tool bad that the editor becomes a place for advertisement. I guess you can't hold it against any of the addons if core Elementor does it.
😎 Its a small thing, and maybe it says something about my personality, but I appreciated that the widgets in the editor were listed in alphabetical order. It makes it so much easier to find the one you want when scrolling through the list.
😎 Essential Addons is extensively documented with text and video for every feature. There are links to the documentation and videos in the WordPress admin and in the Elementor editor. It would be nice if all addons were so thorough. 😎 Also, the team is active on WordPress.org in supporting users of the free version, which takes resources and commitment.
Conclusion
Essential Addons for Elementor is a solid plugin with lots of strengths and some unique features. It is one of the top tier Elementor addons and is a good choice as a base for extending core Elementor.
Did you look at the price? 😍 I was surprised at the low price of the lifetime package. As Elementor becomes more popular, many other companies have raised their prices, sometimes into the stratosphere. Essential Addons is a strong offering with lots of value. It is currently under priced. If Essential Addons for Elementor Pro is something you are considering, I'd snag it before the price goes up.